World
Bahrain Shia activists must receive a fair trial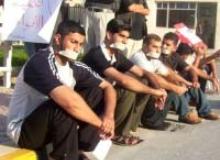 Amnesty International has urged the Bahraini authorities to ensure a fair trial for 23 Shia Muslim activists.
All but two of the 23 were arrested as part of an increased clampdown by the authorities on Shia opposition and human rights activists in the run-up to next month's parliamentary elections.
Many of those detained have been held incommunicado amid reports of torture and other abuse.
Most are members of opposition political organizations such as al-Haq and other Shia groups, but a few are human rights activists
Hassain Meshaima', the Haq secretary general, and Sa'eed Al-Shehabi, secretary general of the Bahrain Freedom Islamic Movement, live in London and have been charged in their absence.
The 21 who are in custody were taken before the Public Prosecutor in the Bahrain capital Manama between 27 and 31 August and formally charged, according to media reports.
"The Bahraini authorities must ensure that all those charged receive a fair trial that meets international standards," said Malcolm Smart, Amnesty International's director for the Middle East and North Africa.
"We are particularly concerned that they could be at risk of the death penalty if convicted."
All 23 men are charged with "forming an illegal organization" aiming to "overthrow the government and dissolve the constitution", inciting people to "overthrow and change the political system of the country", fundraising and planning terrorist acts, and other offenses under Bahrain's 2006 anti-terrorism law.
'Abdul-Jalil al-Singace, the leader of al-Haq, was arrested on 13 August when he arrived back in Bahrain after visiting the UK.
As well as the other charges, he is accused of "running an illegitimate network" and "leading sabotage cells… contacting foreign organizations and providing them with false and misleading information about the kingdom."
His arrests sparked popular protests, some of which turned violent.
Seven other opposition figures who were arrested in August face similar charges.
Another 13 activists, all held in detention, are accused of "joining the network… which aims to overthrow the government and change the political and social regime of the state… (by) illegal means."
During interrogation some of the detainees were asked questions about their relationship with the Bahrain Center of Human Rights, which has been banned since 2004.
Nabeel Rajab, a well-known human rights activist and director of the Center, has been described in some Bahraini newspapers, which also published his photograph, as a supporter of those arrested. There are fears that he too could be arrested.
Amnesty International has called for the Bahraini authorities to order an immediate independent investigation into reports that some of those detained were subjected to torture or other ill-treatment following their arrest.
On 28 August Mohammad Habib al-Miqdad a Shia cleric who had been held since 15 August, told the Public Prosecutor that he had been suspended by the wrists for several hours and punched by security officials while he was detained reportedly at the headquarters of the National Security Agency in Manama.
His lawyer, who was allowed to observe but not participate directly when Mohammad Habib al-Miqdad appeared before the Public Prosecutor, told Amnesty International that his client had visible marks on his body which appeared to have been caused by torture.
Other detainees are also reported to have alleged torture, including 'Abdul-Jalil al-Singace, 'Abdul-Ghani 'Ali 'Issa al-Khanjar and 'Abdul-Hadi al-Mokhoder.
"The Bahraini authorities must also investigate reports that these individuals were tortured or otherwise ill-treated during their time in detention and if the reports are confirmed, those responsible must be held to account."
No date for the trial has been given.