World
French police attack Yellow Vest protesters as 4th year of anti-govt. movement marked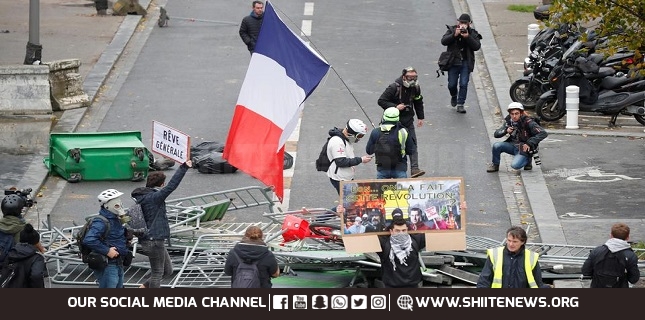 Yellow vest protesters have clashed with riot police in Paris, as the French anti-government movement marked its fourth anniversary, protesting host of issues, including high cost of living.
Demonstrators gathered in Place de la Bourse on Saturday and marched towards Place Anne-Marie Carriere, as "yellow vest" protests against the government of President Emmanuel Macron took place across the country.
Over the past three months, French major trade unions have staged several mass demonstrations in Paris and hundreds of other locations across France to call for higher salaries amid soaring cost of living.
Videos circulating on social media show police pushing back the demonstrators in Paris on Saturday, using tear gas and batons against the protesters.
The yellow vest movement, which started in France on November 17, 2018, in response to fuel price hikes and deteriorating economic conditions, continues with protests against a range of social and political issues.
Protests are often accompanied by riots and clashes with the police, especially in the first two years of the demonstrations, with French police violence against protesters and journalists occurring on numerous occasions.
Last week, nationwide strikes initiated by the General Confederation of Labour (CGT) union resulted in severe transport disruptions in Paris and other major French cities. Demonstrators included workers from such sectors as transport, education, healthcare, energy, trade and manufacturing, as well as supporters of the Yellow Vests movement.
Unions have staged strikes across several sectors in recent weeks seeking pay hikes or increased hiring as spiraling energy costs feed into widespread inflation.
In France, gas pumps have been running dry as workers' strikes continue in the refineries of the major French oil companies. Currently about a third of French gas stations are facing a shortage or lack of gasoline which has caused problems for millions of French drivers.
Before the war in Ukraine broke out in late February, Russia was Europe's largest gas supplier, supplying about 45 percent of the bloc's gas imports.
However, Russia scaled back the flow of gas to Europe, as Western countries announced multiple rounds of sanctions against Moscow.
Also On October, strikes had also affected work at 10 French nuclear power plants, with maintenance delayed at 13 reactors considerably reducing French power production.
Union leaders are hoping to step up pressure on French President Emmanuel Macron as he prepares to revive a controversial pensions overhaul that would push back the official retirement age from 62 to 64 or 65.
Europe has been battling surging inflation for the past year with inflation reaching a historic high of 10.7% last month.
The European Central Bank has announced three rate hikes this year, bringing the rates from negative territory to 1.5%. The soaring cost of energy has been the main driver of higher inflation across the whole continent in recent months.
Next year Europe's output and income will be nearly half a trillion Euros lower than the pre Russian war, International Monetary Fund (IMF) forecasts.