World
Multiple missiles hit Ukraine after Russia blamed Kiev for Black Sea fleet attack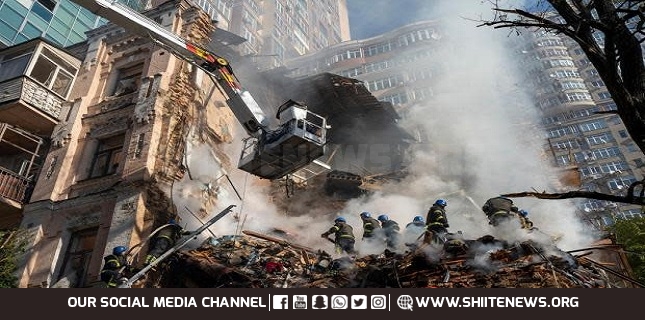 Ukrainian officials have reported multiple missile strikes in cities across the country, including the capital Kiev, after Russia accused Ukraine of attacking its Black Sea fleet in the Crimean port city of Sevastopol.
"Another batch of Russian missiles hits Ukraine's critical infrastructure," Ukraine's foreign minister Dmytro Kuleba said on Monday.
Ukraine's foreign ministry spokesman Oleg Nikolenko said missiles targeted energy infrastructure in Kiev and other cities, causing electricity and water outages.
Ukraine's Air Force spokesman Yuriy Ihnat said that Russia used its strategic bombers to carry out its "massive" strikes.
There was no immediate reaction from Moscow, which has blamed Kiev for launching drone attacks on its Black Sea Fleet in a Crimean port on Saturday.
Russia said the ships targeted in Saturday's attack were involved in the internationally-brokered deal to allow grain exports from Ukrainian ports. Following the attack, the Kremlin announced that it was suspending its participation in the deal.
Russia and Ukraine are both among the world's largest food exporters. Moscow imposed a blockade on Ukrainian grain shipments since Kiev was using the ports for the massive delivery of Western weaponry for its military confrontation with Russia.
Ukrainian President Volodymyr Zelensky, meanwhile, accused Russia of "blackmailing the world with hunger" by pulling out of the grain export deal negotiated by the United Nations and Turkey.
The embattled leader claimed in an overnight address that among vessels held up by the blockade was one carrying tens of thousands of tons of wheat, chartered by the UN World Food Program for emergency response in the Horn of Africa.
Moreover, Ukraine's infrastructure ministry announced that a total of 218 vessels were "effectively blocked."
The grain pact required Russia and Ukraine to coordinate inspections and transit of ships through the Black Sea with the United Nations and Turkey acting as mediators.
No ships were allowed to move on Sunday. The UN said it had agreed with Turkey and Ukraine on a transit plan for Monday for 16 ships to transit Black Sea grain, 12 outbound and four inbounds. There was no immediate reaction from Russia.
The United Nations said Russian officials had been told about the plan, along with the intention to inspect 40 outbound vessels on Monday, and noted that "all participants coordinate with their respective military and other relevant authorities to ensure the safe passage of commercial vessels" under the deal.
Russia launched a military operation in Ukraine in late February, following Kiev's failure to implement the terms of the Minsk agreements and Moscow's recognition of the breakaway regions of Donetsk and Luhansk.
At the time, Russian President Vladimir Putin said one of the goals of what he called a "special military operation" was to "de-Nazify" Ukraine.
Earlier in the month, Russia unleashed the biggest air strikes since the start of its military operation in retaliation for a truck bombing attack on a critical bridge to Crimea.
The West-backed government in Kiev has neither confirmed nor denied responsibility for the attack on the Russian fleet in what appears to be its policy of ambiguity for acts of sabotage in Crimea.