World
The Red Bearded Terrorist of ISIS is French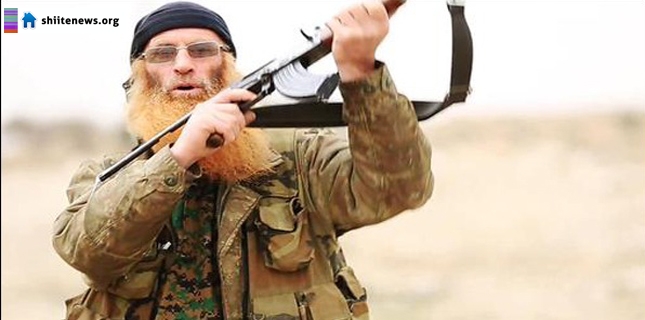 As part of a new recruitment campaign, the ISIL terrorist group has released a video in which a French member tries to give a positive picture of life under the Takfiris' reign of horror.
The video released on Saturday shows a French man in his sixties speaking about his decision to join the ranks of ISL Takfiri extremists who have claimed the formation of a so-called caliphate in Iraq and Syria, the US-based SITE monitoring network reported.
"When I entered the land of the caliphate, I saw that there were different things, institutions, cleanliness, engineers, doctors, sensible people, people who left Europe, who left other lands from across the world to" come and fight alongside the ISIL, said the man identified as Abu Suhayb al-Faransi in the 15-minute video.
Faransi, reportedly a former army trainer and businessman, hailed the notorious ISIL leader Ibrahim Samarrai, also known as Abu Bakr al-Baghdadi, for establishing the "caliphate," adding the scheme was the most powerful incentive behind his joining the terrorist group.
The French national also lashed out at al-Nusra Front, the al-Qaeda's branch in Syria, for breaking ties with the ISIL.
Al-Nusra terrorists, along with ISIL and other Takfiri groups, have launched terror operations against Syria's legitimate government, killing thousands of civilians and security forces in the Arab country.
According to the SITE, the recent video is the first in a string of propaganda videos to be released in the future in an attempt to give a rosy picture of daily life under ISIL and lure western nationals to join the extremists.
This is while many Westerners, who had joined ISIL in the past, expressed their disillusionment after they witnessed the heinous crimes perpetrated by Takfiris.
In January, the French prime minister announced that around 1,400 people from France have joined the ISIL.
"There are 1,400 individuals who are involved in the departures … for terrorism in Syria and in Iraq," Manuel Valls (pictured above) said, adding, "There are close to 70 French citizens or residents in France who have died in Syria and Iraq in the ranks of the terrorists."
The ISIL terrorist group, with members from several Western countries, controls swathes of land in Syria and Iraq, has been carrying out horrific acts of violence such as public decapitations and crucifixions against all communities such as Shias, Sunnis, Kurds and Christians.
The Takfiri elements have also extended their terror activities to Libyan soil in North Africa over the past weeks.
France, along with its Western and regional allies, has long supported the foreign-backed terrorists operating against the government in Syria.