World
Biden administration announces new round of sanctions on Russia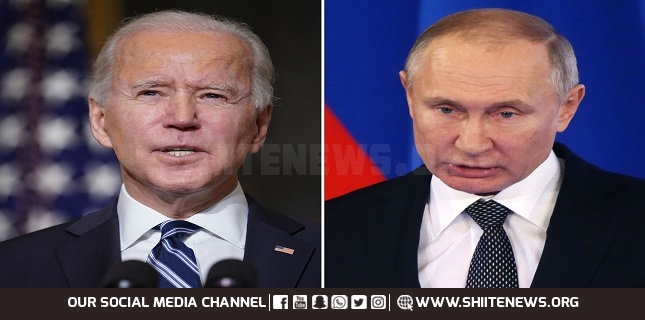 In a further ratcheting up of Washington's offensive against Moscow over its military action against the Kiev government, the administration of US President Joe Biden announced fresh sanctions on Russia.
The US Treasury Department on Thursday announced the sanctions on Thursday that will target prominent Russian government and business officials, including Sergei Roldugin and his family members.
The White House claimed that Roldugin is a close associate of Russian President Vladimir Putin and manages his offshore finances.
The Treasury said it will also target the CEO of Imperial Yachts, claiming it provides services to the Russian leader's inner circle, and the head of United Aircraft Corporation, a state-owned company that works with the Russian defense industry.
"The United States and our allies and partners are committed to supporting Ukraine and ensuring the Russian government feels the compounding effects of our economic actions," the White House said in a statement.
"Today the United States took further action, several of which have also been targeted by partners and allies, to crack down on evasion and tighten our sanctions to enhance enforcement and increase pressure on Putin and his enablers."
The Treasury on Thursday said President Putin has an interest in two vessels, the Russian-flagged Graceful and the Cayman islands-flagged Olympia.
The State Department has also announced to impose sanctions against several wealthy Russians saying they are linked to Putin, including God Nisanov, Alexey Mordashov and his family members, and Maria Zakharova, who is a spokesperson for the Russian foreign ministry.
Mordashov has ties to one of Russia's top steel producers.
Meanwhile, the Commerce Department said it is imposing further restrictions on Russia's ability to obtain technologies and other materials needed to support its invasion of Ukraine.
The Biden administration has imposed harsh economic and banking sanctions on Russia in response to Russia's military actions in Ukraine.
Biden said the sanctions would limit Russia's ability to do business in dollars, euros, pounds, and yen.
The US president claimed that the only other alternative to the sanctions would be to start a "Third World War."
"Americans will stay the course with the Ukrainian people because we understand that freedom is not free," Biden wrote in an op-ed in The New York Times this week. "Vladimir Putin did not expect this degree of unity or the strength of our response. He was mistaken. If he expects that we will waver or fracture in the months to come, he is equally mistaken."
President Putin has said that Western sanctions on Russia were akin to a declaration of war.
"These sanctions that are being imposed are akin to a declaration of war but thank God it has not come to that," Putin said.
Meanwhile, a top Greek diplomat said the sanctions are aimed at regime change in Moscow.
Greek Alternate Foreign Minister Varvitsiotis Miltiadis said that the coordinated Western sanctions against Russia over its military campaign in Ukraine are aimed at regime change in Moscow.
Miltiadis emphasized that the sanctions are aimed at stoking the opposition in Russia.
"The sanctions … are dedicated in order to bring down the Putin regime by internal unrest — and this is the idea that we create," he said, "a climate into Russia that this act of aggression is going to be costly for the economy of Russia, and to build up the unrest and the opposition to Putin."