World
Russia ends military drills in Crimea, will return some troops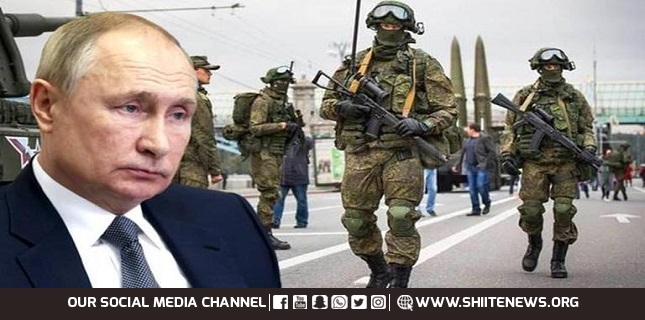 Russia says it has ended its military drills in Crimea and will return an unspecified number of its troops to their bases, a move that could be regarded as an attempt to settle the growing security tensions between Moscow and the US-led NATO over Ukraine.
"The units of the Southern Military District, which have completed their participation in tactical exercises on the training grounds of the Crimean Peninsula, are marching to their permanent deployment points by rail," said the Russian Defense Ministry in a statement on Wednesday.
It also released footage on its Zvezda television channel showing tanks, armored personnel carriers and mobile artillery elements of the 42nd motorized rifle division crossing the Crimean Bridge and heading away from the peninsular at night time.
The statement on the termination of military drills in Crimea came just a day after Moscow announced that some units of the southern and western military districts had completed their exercises near Ukraine and begun to move toward their bases. However, it said some of its military exercises at the border, including those with Belarus, would continue.
Russia and NATO have been at odds over Ukraine. Western countries accuse Russia of preparing for an invasion of Ukraine by massing 100,000 troops and armaments near the border with that country. Rejecting the allegation, Moscow says the troop build-up is defensive as NATO has increased its activity near Russian borders.
Back in December, Moscow asked NATO not to allow Ukraine and other former Soviet countries to join the Western military alliance, and also to stop its military deployments to Ukraine and to roll back it forces from Eastern Europe, demanding legally binding guarantees. The West, however, has flatly rejected the demands, emphasizing that NATO membership will remain open to Ukraine.
Russian President Vladimir Putin has already warned that the US is deliberately designing a scenario to lure Russia into a war over Ukraine, as the Kremlin has repeatedly reiterated that the expansion of the NATO military infrastructure in Ukraine constitutes a red line for Moscow and that any future expansion must exclude Ukraine and other former Soviet countries.
Separately on Wednesday, NATO's Secretary-General Jens Stoltenberg claimed that Russia was actually deploying more troops towards Ukraine's borders, contradicting Moscow's announcement of withdrawal. "So far we have not seen any de-escalation on the ground. On the contrary, it appears that Russia continues the military buildup," he said, ahead of a two-day meeting of NATO's 30 defense ministers.
The anti-Russia sentiment instigated by the Western governments comes as Moscow on multiple occasions has rejected NATO claims of a Russian invasion.
The Kremlin's spokesman Dmitry Peskov has already said NATO suffered from a "handicap" that prevented it from "soberly assessing the situation."
On Tuesday and during a press conference with German Chancellor Olaf Scholz in Moscow, Putin said he was undertaking "a partial withdrawal of troops from the areas of our exercises."
Scholz, after his trip to Moscow, suggested that a war over Ukraine's right to become a member state of NATO was a folly, given the unlikelihood of it occurring during Putin's term in office.
Earlier, Western officials had said Russia would invade Ukraine on Wednesday, prompting Russian Foreign Ministry spokeswoman Maria Zakharova to make fun of such prediction. "I'd like to ask if US and British sources of disinformation … could publish the schedule of our upcoming invasions for the year. I'd like to plan my holidays," she wrote on social media.
Ukrainian President Volodymyr Zelenskiy has criticized the Western states for stoking tensions and called on them to avoid creating "panic" in the face of the Russian troop buildup on the country's border. He has underlined that the panic-triggering alerts are placing a heavy burden on his country's economy.
Kiev and Moscow have also traded blame over the past years for a spike in violence in the Russian-speaking eastern region of Donbass, where Ukrainian troops and pro-Russia forces have fought a conflict that has killed 14,000 people since 2014 by Ukraine's estimate.
The armed confrontations began when a wave of protests in Ukraine overthrew a democratically-elected pro-Russia government and replaced it with a pro-West administration.
The majority in those areas refused to endorse the new administration. The new government then began a crackdown on the mainly ethnic Russians in the east, who in turn took up arms and turned the two regions of Donetsk and Lugansk — collectively known as the Donbass — into self-proclaimed republics. Kiev and its Western allies accuse Moscow of having a hand in the crisis. Moscow, however, denies the allegations.