World
Millions Await World Hijab Day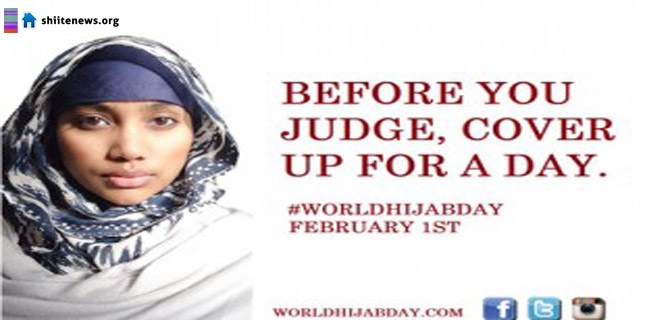 Preparing for the third anniversary of World Hijab Day, organizers of the event are anticipating the participation of around 10 million Muslims and non-Muslims worldwide, after huge success of the first two years.
"Our mission is to have 10 Million participants on February 1st, 2015 worldwide, Insha'Allah! The event is being organized since last two years for 'better awareness', 'greater understanding' and a 'peaceful world', and to foster global religious tolerance through Hijab awareness," the Word Hijab Day organizers said in a statement posted on Facebook and quoted by ummid.com.
"On this day, we ask non-Muslim and non-Hijabi Muslim women worldwide to observe Hijab for a day. It will be a day for everyone willing to experience what it's like to step inside the shoes of a Hijabi.
"Our hopes are no less than that. We wish you will gain a wealth of knowledge and experience a slightly different definition of freedom," organizers added.
On February 1, millions Muslim and non-Muslim women wearing a traditional Islamic head scarf will march on the streets of 116 countries to mark the third anniversary of World Hijab Day.
The event, held for the third consecutive year, is the brain child of a New York resident, Nazma Khan, who came up with the idea as a means to foster religious tolerance and understanding.
Suggesting the event, Khan wanted to encourage non-Muslim women to don the hijab and experience it before judging Muslim women.
She also saw the event as a best chance to counteract some of the controversies surrounding why Muslim women choose to wear the hijab.
"World Hijab Day is not an act of worship but rather an effective way to create global awareness of the issue that is being attacked unfairly.It has achieved some great success already.
Alhamdulillah," Mufti Ismail Menk is quoted on WHD Facebook page.
"I believe the concept of bringing attention to the modest attire that Islam encourages women to wear is something extremely positive and beneficial, especially in today's fashion-obsessed and scantily-clad societies. Allah created us to love modesty, and modesty is a part of faith. Projects such as the 'Word Hijab Day' help us spread these values and showcase our religion in a positive manner," says Dr. Yasir Qadhi.
Preparations
Across the globe, volunteers have been preparing for the awaited event next Sunday, February 1, from America and Europe to Asia and Africa.
"I love wearing a hijab. I feel very beautiful. Even though my spiritual practice is that of the Hindu faith, not Islam, wearing a hijab just makes me feel more beautiful and unique," Adreena, a Hindu who lives in California, US, wrote on WHD facebook page.
"The sad part is when I get "Angry" stares from those who are ignorant. But I don't get offended, they don't know me, and they cannot bring me down."
"And even when I do get stares, I feel strong and empowered. I don't wear a veil because I am told to, I wear it because I choose to," she added.
Juliana, an American Christian, was not less enthusiastic.
"I actually wear hijab in secret. I am Christian and Cherokee from Minneapolis, MN and it is not widely accepted here. It is unlikely to receive support from friends and some family. Therefore, I only wear hijab when I know I will not run into them," she wrote.
"I feel so much more comfortable covering up. Hijab has been speaking to me for a long time and World Hijab Day is the first day I will proudly wear hijab in front of friends and family.
"I am hoping I can find the courage to continue wearing hijab happily and proudly for many days to come after. It is hard without support, but I think I have found truth in hijab," Juliana added.
Islam sees hijab as an obligatory code of dress, not a religious symbol displaying one's affiliations.
Hijab has been in the eye of storm since France banned the headscarf in public places in 2004.
Since then, several European countries have followed suit.