Saudi Arab
World
Saudi-Israel normalization 'impossible' if Palestinian state is prerequisite: Pompeo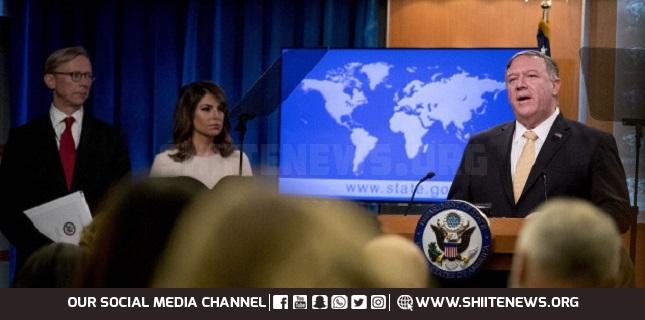 Former US Secretary of State Mike Pompeo has ruled out the possibility of a normalization deal between Saudi Arabia and the Israeli regime if such an agreement required the creation of an independent Palestinian state with the occupied al-Quds as its capital.
Pompeo made the comment in an interview with Israel's Jerusalem Post newspaper on Wednesday after Saudi Arabia's Ambassador to Palestine Nayef bin Bandar al-Sudairi made an official visit to the occupied West Bank city of Ramallah.
During the visit, Sudairi underlined that creating a Palestinian state with the occupied al-Quds as its capital would be the "central point" of any prospective agreement with the illegal entity.
"It is impossible to imagine a two-state solution with the current Palestinian leadership," Pompeo said, accusing the Palestinian Authority (PA) of "underwriting terrorism, taking money from Iran, paying citizens to kill Israelis," without providing evidence for his claims.
The former US diplomat added, "It is very difficult to imagine how one would strike a deal with the very leaders that have rejected every reasonable offer with which they have been presented."
Stressing that every US president, whether Democratic or Republican, would support a normalization agreement, Pompeo said it is in the US's interest to have security relations between the United States and Saudi Arabia and between Israel and Saudi Arabia.
Sudairi, who is also the Saudi ambassador to Jordan, was appointed last month as the kingdom's non-resident ambassador to Palestine and consul general in al-Quds.
The Israeli regime claims occupied al-Quds as its own capital, a status recognized by the United States under then-president Donald Trump in 2017 but not by other world countries. Israeli authorities bar Palestinian diplomatic activity in the city.
The Saudi ambassador's appointment came amid reports that the Persian Gulf kingdom is considering the prospect of establishing formal diplomatic relations with Israel under US pressure.
In late July, the administration of US President Joe Biden announced that a deal for Israel and Saudi Arabia to normalize relations may be on the horizon following National Security Adviser Jake Sullivan's talks with Saudi officials in Jeddah.
In order to sign a deal with Israel, Riyadh publicly asked Tel Aviv to implement the 2002 so-called Arab Peace Initiative, which conditions normalizing ties with Israel on the establishment of an independent, sovereign Palestinian state within the 1967 borders.
However, members of the far-right Israeli regime, led by Prime Minister Benjamin Netanyahu, say they will not make any concession to the Palestinians as part of a potential deal for normalization of relations with Saudi Arabia.
Washington's efforts to add Saudi Arabia to the list of Arab countries that have signed the Abraham Accords come at a critical time when Biden is seeking re-election and Washington has failed to pull the kingdom farther from China's orbit and hamper Beijing's efforts to expand its influence in West Asia.
The UAE, Bahrain, Sudan, and Morocco signed US-brokered normalization agreements with Israel in 2020 under former hawkish President Donald Trump, drawing condemnations from Palestinians who censured the deals as "a stab in the back of the Palestinian cause and the Palestinian people."