Palestine
Hamas Rejects Abbas's Claims on Gaza Explosion against Palestinian Premier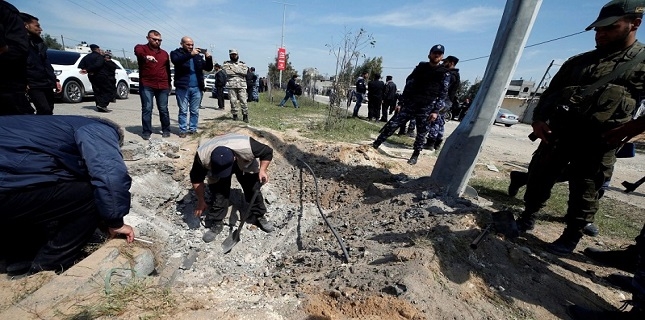 Hamas resistance movement slammed on Tuesday statement of the Palestinian Authority president Mahmoud Abbas who said he held Hamas responsible for an explosion that targeted the Palestinian Prime Minister Rami Hamdallah in Gaza.
Hamdallah's convoy was targeted on Tuesday by a blast shortly after it arrived in the besieged Gaza Strip through Beit Hanoun (Erez) checkpoint. No injuries were reported.
The Hamas movement stressed that what happened was a crime and an attempt to harm the reconciliation.Palestinians inspect the site of an explosion that targeted a convoy that was carrying Palestinian Prime Minister Rami Hamdallah, in the northern Gaza Strip March 13, 2018. REUTER
Hamas's spokesman Fawzi Barhoum said in a press statement that his movement strongly condemns the attack on Hamdallah's convoy in Gaza, affirming that this crime is a thinly veiled attempt to undermine the reconciliation efforts and harm Gaza's security.
Barhoum slammed the "ready accusations" made by Abbas and called on Gaza's Ministry of Interior to open an urgent investigation into the crime to hold its perpetrators accountable.
Gaza's Ministry of Interior said that Hamdallah resumed his mission scheduled for Tuesday and affirmed that security services are investigating the incident.
The spokesperson of the Interior said that several suspects were arrested.
Palestinian resistance movement Hamas reached a national reconciliation deal with Abbas-led Fatah party last October with the aim of ending a decade-long political rift mainly over the governance of the Gaza Strip.
The Palestinian leadership has been divided between Fatah and Hamas since 2006, when the latter scored a landslide victory in parliamentary elections in the Gaza Strip. Hamas has ever since been running the coastal enclave, while Fatah has been based in the autonomous parts the Israeli-occupied West Bank.