Palestine
Israeli settlers storm al-Aqsa Mosque compound for Talmudic rituals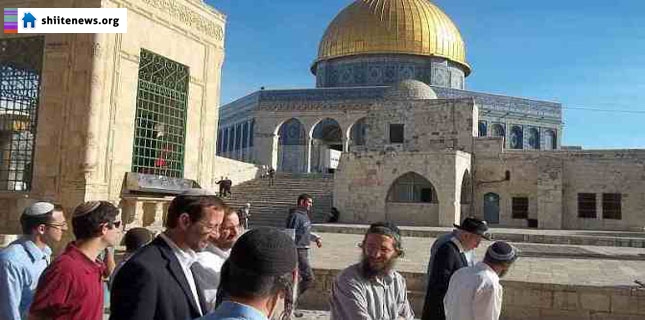 Israeli settlers have broken into the al-Aqsa Mosque compound for Talmudic rituals.
Amid tight security measures by Israeli forces, some 25 settlers stormed the mosque on Wednesday morning, the Palestinian Information Center reported.
Palestinian worshipers tried to push them out of the courtyard of the mosque after they approached al-Rahmeh Gates, but the worshipers failed as there was a large number of Israeli police protecting the settlers.
Moreover, Israeli police prevented Palestinians from entering the mosque to perform their daily prayers.
The incident came against the backdrop of an Israeli court ruling on March 1 that Israeli police should protect the settlers when they desecrate al-Aqsa.
Earlier this week, extremists affiliated to "Groups for the Temple Compound" called on supporters to participate in storming al-Aqsa Mosque on Wednesday and Thursday to celebrate the Jewish holiday of Purim in the Old City of Jerusalem al-Quds. They called on Jews to conduct large-scale incursion into the mosque in the next couple of days.
Over the past decades, Israel has tried to change the demographic makeup of al-Quds by constructing illegal settlements, destroying historical sites, and expelling the local Palestinian population.
Over half a million Israelis live in more than 120 settlements built since 1967. The international community considers the settlements as illegal because the territories were captured by Israel in a war in 1967 and are thus subject to the Geneva Conventions, which forbid construction on occupied lands.