Palestine
Thousands rally against Israeli PM over coronavirus fallout, corruption charges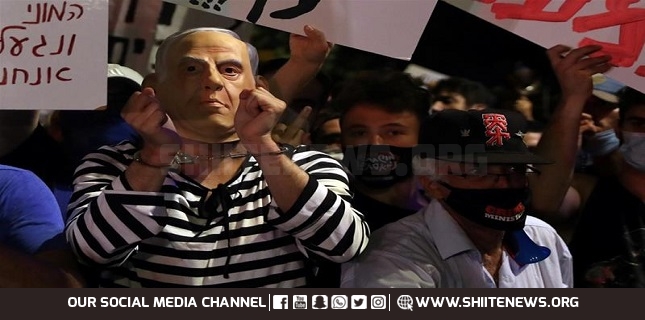 More than 2,000 people have staged a protest outside Israeli Prime Minister Benjamin Netanyahu's residence in occupied Jerusalem al-Quds, demanding that the five-term premier step down over his handling of the fallout from the coronavirus pandemic as well as the corruption charges he is facing.
The demonstrators, wearing protective masks, marched from Netanyahu's house on Balfour Street to the Knesset (Israel's parliament) on Tuesday evening, holding up signs that read "Crime Minister" and calling on the 70-year-old chairman of the Likud to resign.
The protest was organized by several groups, including restaurant owners angry at the repeated closures forced upon them in recent months, self-employed people who say economic aid packages have been insufficient, and the so-called "black flag" anti-corruption protesters against Netanyahu.
"It's humiliating and insulting. You pay social security and taxes for thirty years and then have to beg (the authorities) in order to make ends meet. I'm here to protest, so that this evil administration quits," 54-year-old protester Doron said.Restaurant owners set up a free buffet for the demonstrators as part of the protest, demanding that either their businesses remain open or receive compensation.
Several protesters even climbed on a statue of a menorah near the parliament building.
Israeli police deployed water cannon and mounted officers to disperse the demonstrators. At least 34 people were arrested as protesters and police forces faced off.
Also in the northern coastal city of Haifa, some 150 restaurant owners demonstrated against lockdown measures and closures forced upon them in recent months.
The restaurateurs, Jewish and Arab and from various areas, blocked roads and called for compensation and for Netanyahu to "resign."
Reimposed curbs, the incumbent administration's handling of the economic crisis caused by the COVID-19 pandemic and corruption charges against Netanyahu have prompted Israelis to take to the streets frequently.
A number of the rallies have seen the blocking of roads by demonstrators and clashes between police and protesters, including over the weekend in Jerusalem al-Quds and Tel Aviv.
Israel has an unemployment rate of 21 percent — or 850,000 people. Coronavirus restrictions have further battered the economy.