Pakistan
Families sit in against enforced disappearance enters 9th day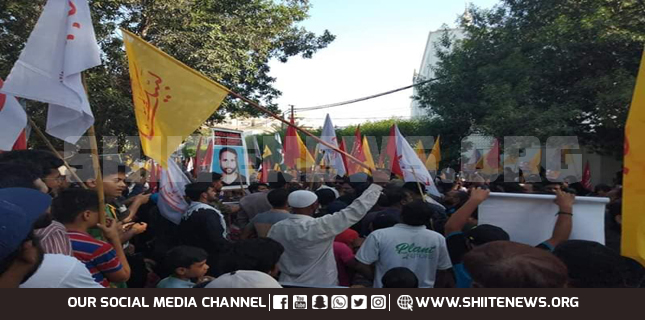 Families sit in against enforced disappearance enters 9th day today after Governor Sindh talks with the protesters failed last night.
Shia families continue sit in
Most importantly, the affected families of Shia missing person continue sitting outside President Dr Arif Alvi house in Karachi.
The families and Shia Missing Persons Release Committee demand an end to enforced disappearance.
The families and Shia Missing Persons Release Committee are demanding end to enforced disappearance.
Governor Sindh represented President in talks
Governor Sindh Imran Ismail had come to the venue of sit-in.
There, he told the protesters that President of Pakistan sent him as representative of federation. Federal Minister Ali Zaidi accompanied him. Both belong to ruling Pakistan Tehreek-e-Insaf.
Reports had it Governor Sindh had invited the representative committee of the sit-in protesters to hold talks at Governor House.
Sit in protesters turnd down Governor's proposal for another committee because all know who subjected innocent Shia citizens to enforced disappearance
However, the latter refused talks there. Hence, the former had to arrive at the sit-in camp.
Protesters reject idea to form another committee
Furthermore, Governor Imran Ismail also proposed formation of a joint committee to search which (security) agencies subjected Shia citizens to enforced disappearance.
However, the negotiators from protesters disagreed with the idea due to the reason that all know who put them under undeclared detention.
Noteworthy to add:
Peaceful Shia community has been running from pillar to post to seek justice. They expressed dismay over the biased and discriminatory crackdown and witch-hunt.
They expressed surprise over the victimisation and marginalisation dspite the fact that Shia community never went against state. Shia Muslims never supported separtism and terrorism, but the biased state policy seems to equate them with banned takfiri and ethnic outfits.
More from Shiite News (sit in enforced disappearance shia)
Shia community a victim of systematic marginalisation in Pakistan
https://urdu.shiitenews.org/shia-missing-persons-ke-nakarda-jaraim/
Allama Raja Nasir meets families of Shia missing persons at Karachi sit in