Pakistan
Another US diplomat hits motorcyclists while driving in Islamabad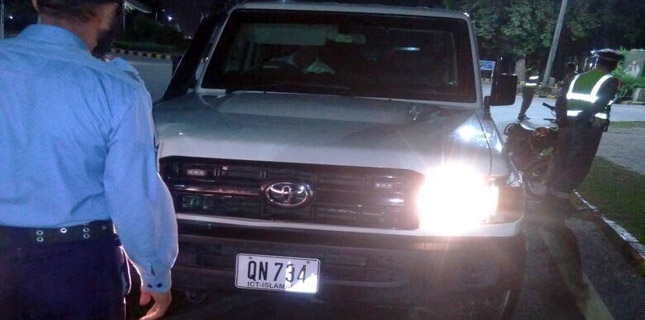 A US diplomat stationed in Islamabad was taken into police custody after he rammed his vehicle into two motorcyclists in the federal capital Isalamabad late Sunday night. The two Pakistanis were injured due to mishap.
The US diplomat posted as Second Secretary at Islamabad embassy identified as Chad Rex Ausburn hit the bike rider and his pillion passenger in a hit-and-run on Sunday in the premises of Secretariat police station. The injured were rushed to a nearby hospital where their condition is said to be stable.
Following the incident, the diplomat refused to step out of the vehicle. However, he stepped out and identified himself when police reached the site of incident.
The US diplomat was later taken into police custody and shifted to Secretariat police station. Police have impounded the vehicle and taken the diplomat's cards for verification.
The US diplomat was in police custody till the filing of this report, awaiting verification and confirmation of diplomatic immunity.
Earlier this month, a motorcyclist in Islamabad was killed after being hit by a vehicle driven by the military attaché of United States.
Defence and air attaché at the US embassy Col Joseph Emanuel was driving a white SUV when he hit Ateeq and Raheel travelling on a motorbike. Resultantly, Ateeq died on the spot while Raheel suffered serious injuries and has been shifted to nearby hospital.
In July 2010, a US embassy officer attached to the embassy's Force Protection Department, hit and killed a young man driving a motorcycle on the 7th Avenue.
In February 2013, an administrative assistant at the US embassy hit two motorcyclists with his Land Cruiser near Kohsar Complex at Margalla Avenue. A man was killed and another was injured in the accident.
In November 2010, a member of the US Regional Affairs Office hit another embassy's vehicle causing damage to both vehicles at Shahrah-i-Jamhuriat near Radio Pakistan.