Pakistan
Quetta:- Rehman Malik says Lashkare-e-Jhangvi constantly strengthening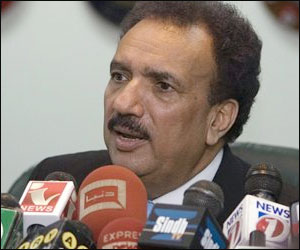 Federal Interior Minister, Rehman Malik, has said that the banned outfit, Lashkar-e-Jhangvi, is constantly getting stronger with the passage of time.According to the Shiite News.'Talking to journalists in Quetta regarding the recent blast on Al-Quds Day rally, Malik said to provide security to a two kilometer long procession is near about impossible under the prevailing situation.
On September 3, at least 54 people were martyred and over 150 were injured In Quetta when a suicide bomber blasted into a rally held to express solidarity with the Palestinians.
The bomber exploded himself in the middle of the Yaum-e-Quds rally at Meezan Roundabout, killing at least 54 people and injuring scores of others.
Immediately after the blast, the dead and injured were shifted to the Civil and Combined Military hospitals.
The hospitals' management has appealed for blood donations. Out of 150, 50 are said to be in critical condition. Security agencies cordoned off the area and initiated investigation.
Sources said that no adequate security arrangements were made on the rally routes.
Rallies are held across Pakistan every year on the last Friday of the Muslim fasting month of Ramadan to support Palestinian demands for a separate homeland.
The Federal Interior Minister added that if processions and rallies are taken out with thin participation or they are held in a close place, then security can be provided and mishaps could be avoided
Back to top button