Pakistan
Senate warns Defence Minister against hiding details of troops to Saudi Arabia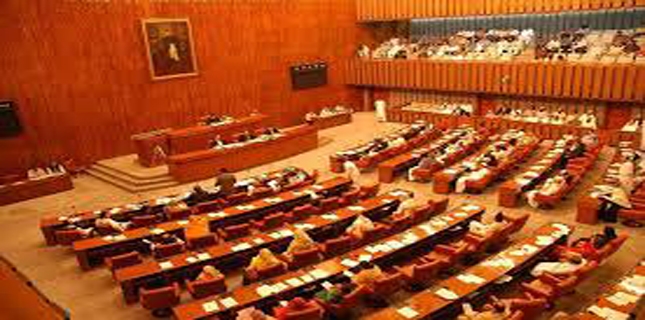 Senate Chairman Raza Rabbani threatened Defence Minister Dastgir with 'contempt of parliament' proceedings after the minister outright refused to provide details of the 'unilateral decision' to send Pakistani troops to Saudi Arabia for deployment.
The chairman said he 'rejected' Dastagir's briefing to the upper house after the minister said he could not divulge "operational details" of the deployment.
"Why don't we proceed against you and the prime minister over contempt of parliament?" Rabbani asked Dastgir after the minister revealed that it was Prime Minister Shahid Khaqan Abbasi who green-lighted the deployment.
The Senate chairman censured Dastgir for not taking the house into confidence even though both the defence minister and premier had knowledge of the decision for several months.
"The parliament found out [about the deployment] through a press release," Rabbani said. "The executive has itself rubbed parliament's nose in the dirt."
But the defence minister argued that despite the decision, Pakistan remains "neutral" — in line with a unanimous resolution passed by a joint sitting of parliament in 2015 stating that Pakistan will not become party to any war in the Middle East or any Arab state.
Disclosing the size of the deployment for the first time since the decision was announced, Dastagir said a total of 1,000 Pakistani troops are being sent to the Kingdom on a training mission. He said 1,600 Pakistani soldiers are already stationed in Saudi Arabia.
The defence minister attempted to assure Senate that the troops will not be deployed outside the Kingdom's territory, but Chairman Rabbani expressed a lack of confidence in the assurance, saying this information was already known.
"The House is not satisfied with your response," he told Dastagir, while Senator Farhatullah Babar stressed that "all concerns remain despite the defence minister's statement".
"Has a decision been taken to deploy troops at the border of [the southern Saudi province of] Sharura," he asked.
The Senate chairman told the defence minister that he could not hide any information from parliament, and even offered him the option of briefing the Senate on the issue in detail in an in-camera session.
"[But] don't give us a lollipop… we are not children," Rabbani told him.
However, the defence minister turned down the offer, stressing that he could not divulge operational details of the mission.
"Don't ask where in Saudi Arabia the troops will be deployed," he further said.