Pakistan
Daesh-allied Jundullah banned in Pakistan amid global pressure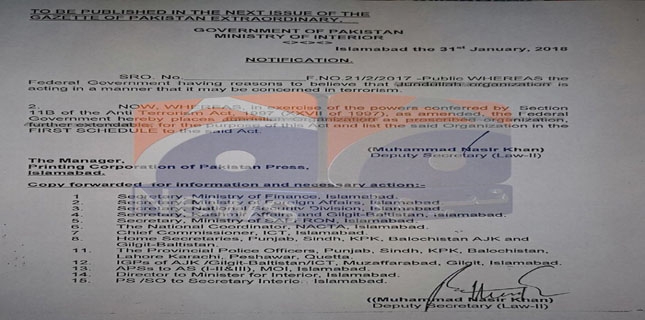 Pakistan's Federal Interior Ministry formally placed a ban on Daesh allied Deobandi takfiri terrorist outfit Jundullah. A group associated with the banned outfit, Al-Harmain Foundation, was also banned on charges of collecting funds, pursuant to resolution 1267 (1999) of the United Nations Security Council's (UNSC).
A notification, issued by the ministry on January 31, states that the organisation is acting in a manner that "may be concerned in terrorism."
"Now, whereas, in exercise of the powers conferred by Section 11B of the Anti Terrorism Act, 1997 (XXVII of 1997), as amended, the Federal Government hereby places Jundullah Organization as proscribed organisation, further extendable, for the purpose of this Act and list the said Organization in the First Schedule to the said Act," states the notification.
The Gazette of Pakistan added the organisation to the list of banned organisations.
While talking to this correspondent, an interior ministry official said, "We are taking strict actions against the militant organizations working in the country, to fulfil our international obligations."
Jundullah, a splinter group of the outlawed Deobandi takfiri terrorist outfit Tehreek-e-Taliban Pakistan (TTP), in 2014 announced to pledge its support to Daesh. Law enforcement agencies have frequently arrested terrorists belonging to Jundullah operating in Pakistan.