Pakistan
Army Chief asks PM Abbasi to tackle Islamabad protest 'peacefully'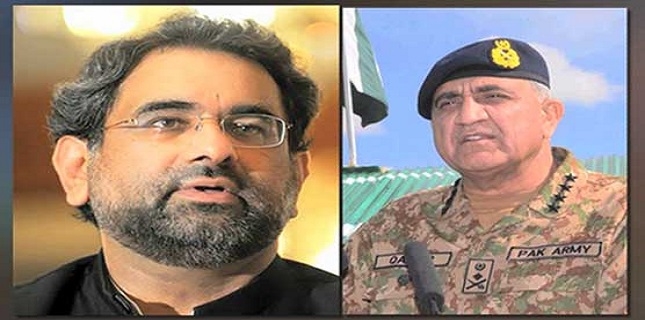 Chief of Army Staff Gen Qamar Javed Bajwa advised Prime Minister Shahid Khaqan Abbasi on Saturday to "handle the Islamabad dharna peacefully" as violent clashes erupted between security forces and protesters in the capital city during a clearance operation at the Faizabad Interchange.
At least 139 people ─ including protesters and security forces ─ were injured as police, the Frontier Constabulary and other law enforcement agencies employed teargas shelling and rubber bullets to disperse the agitators, who have held an 18-day-long sit-in despite repeated requests by the government to clear the area. In response, the protesters have been using stones and rocks to attack the advancing security forces.
The crackdown ordered by the Islamabad High Court was launched after the last of a long series of deadlines lapsed today morning without response from the agitating parties.
Roughly 8,500 elite police and paramilitary troops in riot gear are taking part in the clearance operation of over 2,000 protesters in the capital city.
Following the news of the clearance operation, religious parties began protesting in other cities, including Karachi, Lahore, Faisalabad and Badin.
Director General (DG) Inter-Services Public Relations (ISPR) Maj Gen Asif Ghafoor tweeted that the army chief telephoned the prime minister and suggested the clearance operation in Islamabad be handled peacefully, "avoiding violence from both sides as it is not in national interest and cohesion."
Earlier this week, the military's spokesperson said the army would abide by whatever decision the government took regarding the clearance of the Faizabad Interchange, although it would be preferable to address the situation through peaceful means.
The DG ISPR said that the civil and military leaderships were on the same page when it came to the country's security, and that the army was duty-bound to carry out the government's instructions.