Pakistan
Deobandi terrorists attacked Deobandi mosque on Ashura 2013 in Rawalpindi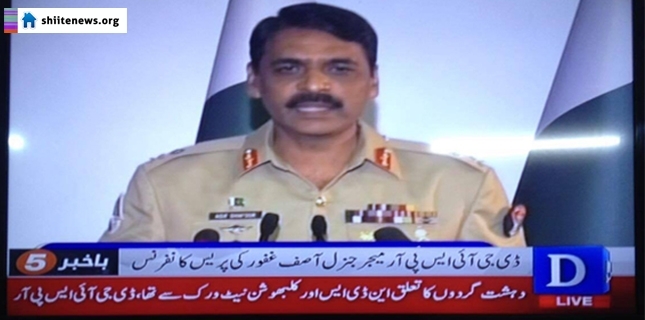 Deobandi terrorists from Fata perpetrated attack on Deobandi mosue in Raja Bazaar Rawalpindi on Ashura impersonating them as Shia Muslims with a malafide intention to spark off sectarian reprisal attacks. On Monday, DG ISPR Major General Ghafoor Ahmed at a press conference denied that there is a deep-rooted sectarian divide in Pakistan.


He recalled the 2013 Raja Bazaar incident in Rawalpindi, when at least eight people were killed and over 80 others injured during an Ashura procession after unknown men snatched guns from policemen and opened fire. A mosque was also set on fire, and a number of shops were gutted.

He played a video for his audience, asking them to "decide for yourself whether there is a sectarian divide in Pakistan or not". The video was a taped confession of two Deobandi terrorists, one named Shahzaib and the other Ajmal. Both were involved in the 2013 Raja Bazaar attack.

Shahzaib, a 'terrorist commander', narrated that he hailed from Bajaur Agency. In 2013, he and a group of seven others were told to wear black clothes on Ashura and incite chaos in Raja Bazaar with the aim to aggravate the sectarian divide between Shias and Sunnis.

"We set fire at Fuwara Chowk during a Shia procession. After that we left," he said.

Ajmal confessed to his involvement in the same operation, referring to Shahzaib as his 'commander'. He additionally claimed that the team was in contact with a commander based in Kunar, Afghanistan.

The details of his confession appeared to match the claims made by Shahzaib.

Ghafoor claimed the group shared similarities with the network supporting Indian spy Kulbhushan Jadhav, which he said had ties to the Afghan National Directorate of Security and India's Research and Analysis Wing.

"Further investigation is ongoing," he said, adding that since a Shia-Sunni conflict did not exist to the extent that "these people" wanted it, "first they created this faultline and now they are exploiting it."
It is relevant to add here that the Shiite News had reported the facts in 2013 that Deobandi terrorists of banned outfits were involved in that but biased Punjab police had implicated innocent Shia Muslims in that attack.