Pakistan
Interior Minister's veiled criticism of security agencies' performance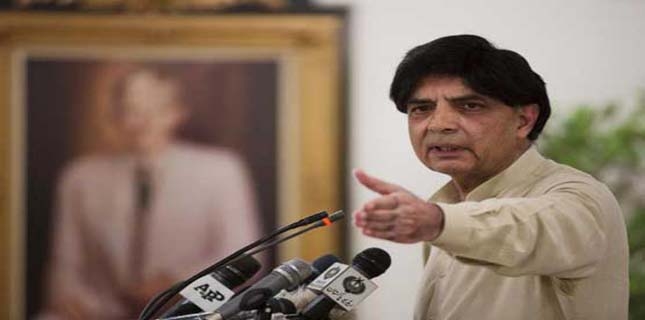 Federal Interior Minister Chaudhry Nisar Ali Khan said that if security is not adequate in a high-security area like Wah Cantt, then it could raise a question mark on the performance of intelligence and security agencies. This is being considered a shift in his stance on security agencies since DG ISPR tweeted against DAWN Leaks inquiry report.
An intelligence report expressed fears of a terrorist attack in Wah Cantt citing that terrorists could carry out an attack at the POF complex in the Wah Cantt area at a Labour Day ceremony at the Pakistan Ordnance Factories (POF) complex.
Nisar along with two other federal ministers attended the ceremony today despite the security fears.
Three federal minister — Chaudhry Nisar Ali Khan, Rana Tanveer Hussain, and Muhammad Barjees Tahir — attended a Labour Day ceremony at the POF complex.
Speaking on the occassion, Nisar said that if the lives of labourers at the POF complex in Wah Cantt are not safe, then even he does not care for his own life.
"If even the life of a Wah factory labourer is not safe then may God protect us all," he said." People told me to not here due to security threat. Those who are apreading these rumours are inane."
The interor minister said that the prestige of Ordinance Factory is only due to its labourers.
Special Package for workers
The Government has announced a special package for workers of Pakistan Ordnance Factories (POF).
The announcement was made by Interior Minister Chaudhry Nisar Ali Khan, while addressing POF workers at Wah Catt on Monday evening.
The Minister announced 25 percent increase in basic salaries and two additional promotions. He said these incentives will take effect from today.
He said Prime Minister Nawaz Sharif always has a soft heart for labourers, further adding that the government will leave no stone unturned for the welfare of workers and their families.