Pakistan
Four Daesh terrorists handed over to Afghan govt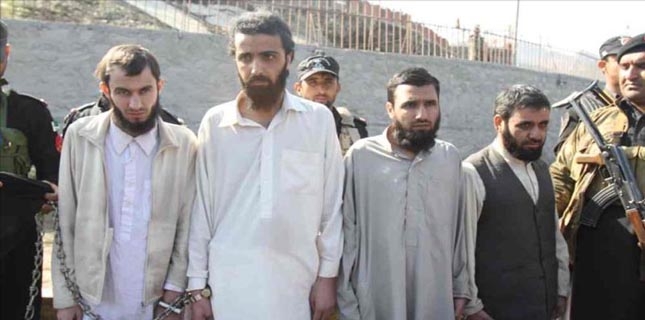 Pakistani officials have handed over four Deobandi terrorists of the Wahhabi takfiri militant outfit Daesh (IS) group's Afghanistan chapter to Kabul as 'a gesture of goodwill' yesterday.
The four were paraded before journalists at the Michni checkpoint before being handed over to Afghan officials at the Torkham border crossing.
Landi Kotal Assistant Political Agent Niaz Mohammad told reporters that Javed Khan, Safiullah, Talmeen Khan and Niamatullah, all hailing from Nangarhar province of Afghanistan, had been arrested by intelligence agencies in Peshawar after they received information about the militants' presence in the city.
He said that the four suspects had sneaked into Pakistan for medical treatment after they were injured during a fight with security forces in Afghanistan.
"Peshawar police handed over the four IS members to the political administration after the interrogation with them. Now we are handing them over to the Afghan government as a gesture of goodwill," Mr Niaz said.
He expressed the hope that the Afghan government would try the four in accordance with their law and award them exemplary punishments.
Meanwhile, pamphlets carrying a message of the IS have been found in the border area of Kurram Agency, our correspondent from Parachinar reports.
The pamphlets carrying the insignia of the takfiri IS and pictures showing brutal actions of the group in Iraq and Syria have been found in Shalozan and other villages. The pamphlets said that after achieving its goals in Afghanistan, the group would start activities in Pakistan's tribal areas, Hangu and Dera Ismail Khan.