Pakistan
Commission of Inquiry on Enforced Disappearances takes notice of missing Shias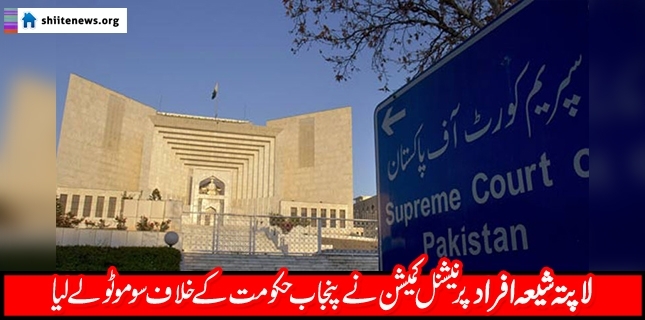 The head of the Commission of Inquiry on Enforced Disappearances and former judge of the Supreme Court of Pakistan Javed Iqbal has taken serious note of the complaint of the heirs of missing Shia Muslims.
Reports had it that he has taken suo motu notice and sought report from the Punjab government regarding the missing Shia Muslims of Punjab province.
CTD officials took away Raghib Abbas Khan Saqib, a resident of Sidhupura Faisalabad on September 21, 2016 with a laptop, two PCs, LCD, CDs and CNIC with them. He is an employee of State Life Insurance and happens to be a wood badge holder scout of Pakistan. His father ran from pillar to post to seek justice and finally on December 15, 2017, a case was registered on his complaint at Ghulam Mohammad Police Station Faisalabad on the order of Justice of Peace of Faisalabad.
Akhtar Imran son of Wajid Ali, retired army personnel, was a teacher in Bahria College and his brother Waqar Haider were kidnapped by people clad in police uniform in district Chiniot on August 22, 2016.
Malik Shabbir Hussain Aaheer of Sargodha was also taken into illegal custody.
The relatives of several missing persons on Thursday accused the Punjab government of "playing politics" in the guise of implementing the National Action Plan (NAP) against terrorists and extremists.
At a press conference at the National Press Club, they described the disappearance of their sons, husbands and brothers in the recent past as "a balancing act" on the part of the provincial government.
"The government was trying to please terror groups and (religious) extremists. Men of other sects were also picked in a bid to show that it was pursuing a balanced policy," the wife of missing Akhtar Imran, said.