Pakistan
Interior Minister defends permission to ASWJ for Islamabad event despite Section 144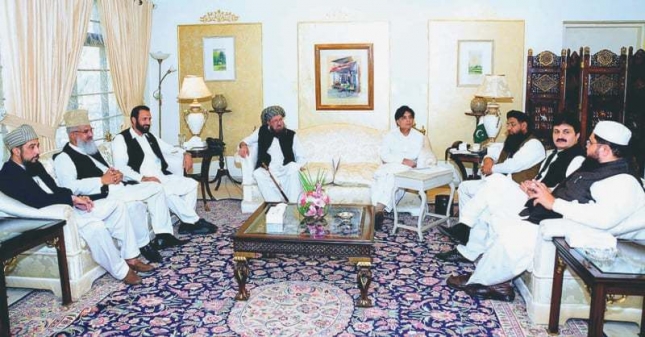 Interior Minister Chaudhry Nisar on Thursday defended the government's decision to permit a Difaa-i-Pakistan Council (DPC) gathering in the capital despite imposition of Section 144 in the run-up to the Nov 2 'lockdown'. But he forgot the fact that it was proscribed ASWJ that hosted the event and their ringleader Ludhianvi was the key speaker at the event and provocative takfiri slogans were raised by hatemongering violent extremists during the event.
The interior minister, addressing a police function in Islamabad, said the organization (DPC) sought approval from the administration and adhered to conditions specified by the administration before it was permitted to do so.
Section 144, which does not permit gatherings of more than four people at a time, was imposed in the capital days before the Pakistan Tehreek-i-Insaf's planned Nov 2 'lockdown' of Islamabad.
"The administration imposes Section 144 when it thinks there is a law and order threat. It can be withdrawn partially or wholly," he said.
"The DPC submitted a request to the administration and the administration told them 'you can call these people, and you can't call these people'," Nisar said.
"They adhered to it so they were allowed to hold an event," he said.
"The DPC is not a proscribed organisation," he added. "Members of the Jamaat-i-Islami, PML-Q and JUI-S are part of the DPC." "They held a lot of large rallies during the PPP tenure," he said.
But, as a matter of fact, many DPC leaders mainly Hafiz Saeed refused to attend the event on the ground that it was purely of sectarian nature since it was being hosted by proscribed ASWJ. Hence interior minister should clarify his position why he failed to take action after it had become clear that it was an event of a proscribed ASWJ, mother-wing of Lashkar-e-Jhangvi? When he will take action against the ASWJ and its ringleaders?