Pakistan
9th Moharram Tasua processions across Pakistan pay homage to Martyrs of Karbala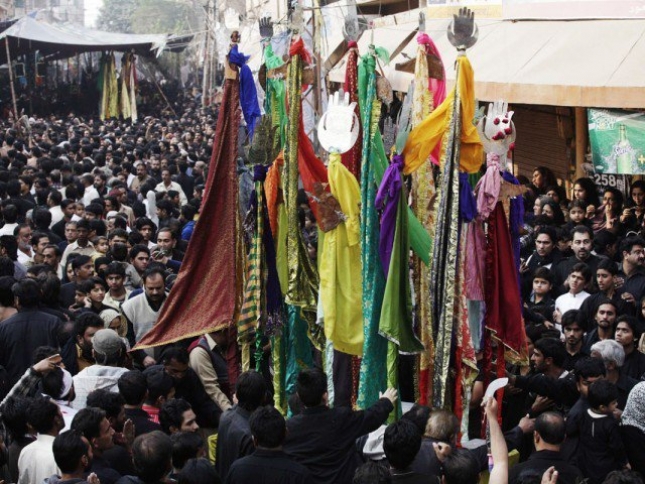 The mourning processions to commemorate tragic events of Karbala continued on 9th Muharram (Tuesday) in all parts of Pakistan with a unique tradition of azadari by both Sunni and Shia Muslims.
Interestingly, Pakistani Muslims mainly Shiites host most of the azadari programs but all others proudly facilitate them. Even non-Muslim Pakistanis pay homage to martyrs of Karbala by participating in azadari processions and congregations.
In Karachi, the main procession was taken out from Nishtar Park at 1pm and culminated at Hussainia Iranian Imam Bargah before Maghrib after passing through Numaish Chowrangi, Sea Breeze, Empress Market and Regal Chowk Saddar, Tibet Centre, Radio Pakistan, Boulton Market and Kharadar.
In Lahore, a Zuljinah procession started from the Atia Ahle Bait Imam Bargah on Nicolson Road after Majlis-i-Aza at 7am. A procession was brought out from Nisar Haveli at night.
In Islamabad, the main procession was taken out from G-6 Imambargah.
In view of security, mobile phone service has been suspended and pillion riding has been banned. Officials of police, Rangers and FC will be deployed on the routes of the procession. Saudi co-religionist and their trained Deobandi takfiris of Lashkar-e-Jhangvi, sister-wing of proscribed ASWJ, pose security threat to almost all Pakistan from schoolchildren to Shiite mourners.
In Rohri, 9th Muharram procession was taken out from Imam Bargah Shah Iraq under tight security. The procession will culminate at Mandu Khabar after passing through its traditional route.
A large number of mourners from Sukkur and other districts are participating in the procession. Tight security arrangements have been made for the safety of the mourners.
The procession is being monitored using helicopter surveillance while police and Rangers personnel have been deployed along the route of the procession.
In Hyderabad, the mourning procession was taken out from Latifabad No.2 amidst strict security. A Majlis-i-Aza addressed by Hassan Abbas Jaffery was also held before.
These are brief details of a few events because hundreds of thousands of processions and congregations are being held and millions of azadars of Imam Hussain (AS) are participating.