Pakistan
Safoora Goth attack: Another alleged facilitator seeks release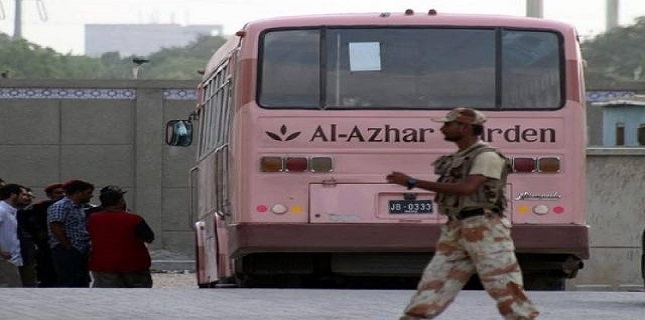 The Sindh High Court (SHC) sought on Wednesday comments from the relevant federal and provincial authorities on a petition seeking the release of a businessman who is said to have been acquitted of charges of facilitating the Safoora Goth attack by a military court.
A two-judge bench, headed by Justice Aqeel Ahmed Abbasi, directed the additional attorney general, the provincial prosecutor general and investigation officer of the Safoora Goth attack to file their comments in this regard by October 17.
Armed gunmen had shot dead 45 members of the Ismaili community on the outskirts of Karachi in May 2015. Five accused, including Saad Aziz alias Tin Tin, Tahir Hussain Minhas alias Sain, Asadur Rehman alias Malik and Mohammad Azhar Ishrat alias Majid, have been sentenced to death by a military court hearing the case. In May this year, army chief General Raheel Sharif also signed the death warrants for their execution.
Advocate Khawaja Shamsul Islam said the applicant, Naeem Sajid, a carpets exporter by profession, was among the suspects taken into custody for their alleged involvement in the killings.
He claimed the applicant's family had come to know that the military court had acquitted Sajid of the charges of facilitating the main suspects. However, he is still being kept in custody despite being cleared of any crime.
The lawyer argued that the detention of his client after acquittal is a violation of the fundamental rights, which have been protected in the Constitution. He pleaded to the court to pass an order, directing the relevant authorities to set the applicant free.
After hearing the initial arguments, the bench issued notices to the federal and provincial governments to file their comments through the additional attorney general and Sindh prosecutor general. A notice was also issued to the investigation officer of the case to file comments by October 17.
Footsteps
Earlier, the relatives of two brothers, Qamar Sultan Siddiqui and Muhammad Hussain Siddiqui, had also approached the high court seeking direction for the federal and provincial governments to release them following their acquittal of charges of facilitation in the attack by the military court.
Separately, the family of another suspect, Sarmad Siddiqui, has also filed a petition against his detention after his reported acquittal in a case linked to the trial of the Safoora Goth attack.