Pakistan
MWM Warns Govt of a Sit-in at CM House to Protest DPO Okara's Brutality & Arrest of Innocent Shias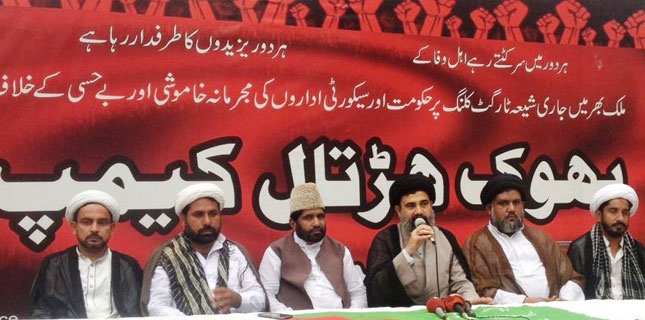 Majlis Wahdat ul Muslimeen (MWM) Pakistan Saturday announced a sit-in demonstration on July 25 in front of Chief Minister House Punjab, protesting inhumane and atrocious behavior of Okara's DPO Rana Faisal arresting peaceful shia protesters in Okara and Kasur.
DPO Rana Faisal, nephew of a standing Punjab minister, using his power illicitly disrupted the sit-in at Okara. He not only manipulated peaceful protesters but as well asked the local Police Station House Office (SHO) to register an FIR against them.
The vindictive officer, once the procession was dispersed, arrested around 50 individual from their houses, many of them shifted to unknown locations and missing. He violated not only their homes but as well abused their women and privacy, said MWM press release.
DPO Faisal has a history of supporting terrorists across the region, not only giving them safe haven but as well supporting them financially. Intel agencies raid in the region has often revealed his involvement with hardcore terrorists. It has been revealed that the same officer has an agenda against Shiites in Pakistan and supports the Takfiri Ideology.
MWM has warned the government of grave consequences and resist should this not be addressed. They demanded of the government to revert the lodged FIR and immediate release of innocent Shiites, for otherwise they intend to protest with a sit-in at Chief Minister House in Punjab till demands are met.
MWM organized a nation-wide sit-in protest against the governments criminal silence of the government over their leaders' two month long Hunger Strike demanding a terror-free Pakistan and target killing of innocent shias across the country. Around 80 venues were reported with a sit-in around the country blocking main (national) highways in various cities from Karachi to Parachinar.
The protest was peaceful and par democratic rights, ending in a serene manner. No violent incident was reported throughout Pakistan, though the party had brought life at a halt in cities resulting traffic jams and chaos.