Pakistan
Edhi's soyem held at Karachi's Memon Masjid amidst tight security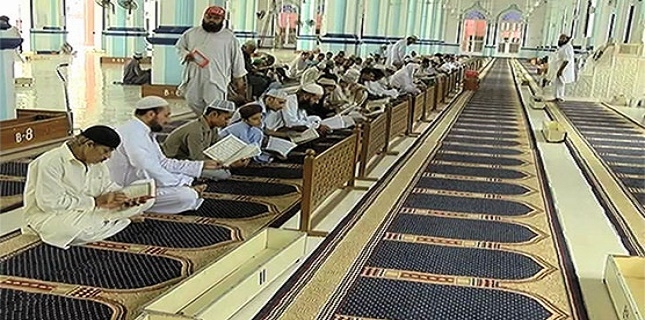 KARACHI: The soyem for Abdul Sattar Edhi, Pakistan's most celebrated humanitarian, was held at Memon Masjid on Sunday amidst tight security.
Quran khwani for the philanthropist began at 9:30am, Edhi's son, Faisal Edhi said.
Senior political leaders, including Muttahida Qaumi Movement's Dr Farooq Sattar and Pakistan Tehreek-i-Insaf's Dr Arif Alvi were among those in attendance.
Law enforcement personnel were heavily deployed around the venue, DawnNews reported, with around 400 police officers on site to ensure security. Rangers personnel have also been stationed in the old city area of the metropolis to maintain law and order.
Heavy traffic was barred on the road linking Bolton Market to Tower, while special measures were taken to ensure traffic control near the venue.
Revered by many as a national hero, Abdul Sattar Edhi created a charitable empire out of nothing. He masterminded Pakistan's largest welfare organisation almost single-handedly, entirely with private donations.
He was diagnosed with kidney failure in 2013 but had been unable to get a transplant due to frail health and was receiving treatment at the Sindh Institute of Urology and Transplantation (SIUT).
While undergoing a scheduled dialysis on Friday, Edhi felt difficulty breathing after which doctors decided to shift him onto a ventilator.
The humanitarian passed away at the age of 88 in Karachi on Friday night.
Thousands of people, including high-profile politicians and government officials, gathered at the National Stadium to attend Edhi's funeral prayers on Saturday.
The iconic social worker was given a guard of honour and a 19-gun salute by the Pakistan Army as his body was taken away from the National Stadium after a state funeral.
His body was then taken to Edhi village, where he was laid to rest.
All three chiefs of the armed forces were in attendance at the funeral alongside President Mamnoon Hussain, DG Rangers Bilal Akber, Corps Commander Karachi Lt Gen Naveed Mukhtar and DG ISPR Lt Gen Asim Bajwa.