Pakistan
Youm-e-Ali | Processions Across Pakistan, Security Increased, Pillion Riding Ban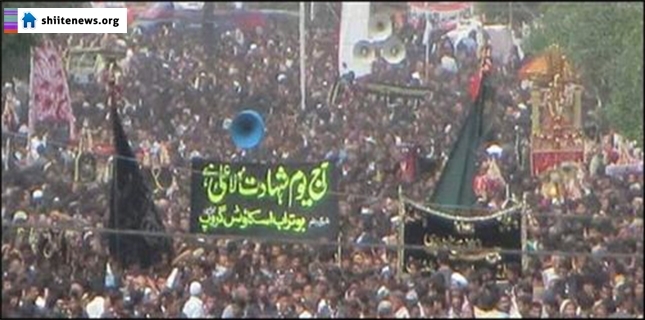 The martyrdom day of Maula Ali (AS) 'Youm-e-Ali' is being observed today (Monday) amid tight security across the country. Special security arrangements have been made to avoid any untoward incident while pillion riding has been banned for two days.
In Karachi, the procession began with Majlis at Nishtar Park attended by large number of men, women and children. Allama Majid Raza Abidi addressed the audience with profound information pertaining to Maula Ali (AS).
The procession took to the route define and upon reaching Imam Bargah Ali Reza, it performed Zuhr / Asr Salat. Despite the heat, numbers were present in the salutations organized by Imamia Students Organization (ISO).
Youm‐e Ali – which means the "Day of Ali" – falls on 21st Ramazan, according to the Islamic calendar. Imam Ali was attacked while praying in the Great Mosque of Kufa in the 40 AH, later to embrace martyrdom after two days.
On the occasion, Muslims renew their commitment to the principles that Hazrat Ali exemplified, particularly the ethics of care, compassion, generosity, integrity, tolerance, forgiveness, brotherhood, and service to others.
Keeping in view the current situation, special security arrangements have been made to avoid any untoward incident. The officers have also taken as many as five suspects into custody. Monitoring of sensitive areas is also being carried out through CCTV cameras.
Meanwhile, Sindh Home Ministry issued a notification, announcing a ban on pillion riding across Karachi and Hyderabad from June 26 till June 28. The ban will not be applicable to women, people with disabilities, elderly people, journalists and children under the age of 12.