Pakistan
PM, army chief witness military exercises in Saudi Arabia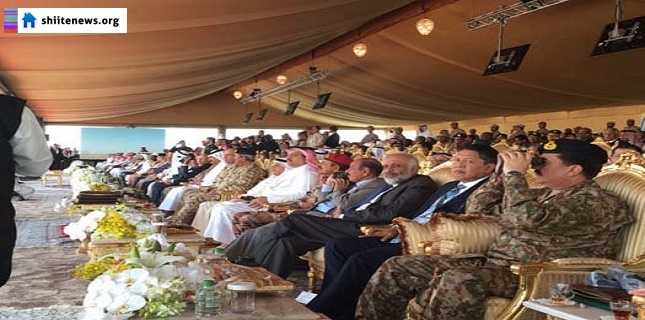 Prime Minister Nawaz Sharif and Chief of Army Staff General Raheel Sharif along with the top Saudi leadership witnessed the concluding ceremony of 'Thunder of the North' military exercises in the northern region of Saudi Arabia, ISPR said on Thursday.
"Premier and army chief with Saudi leadership and other dignitaries on site of the North Thunder final manoeuvres," Director General of military's media wing, ISPR, said in a Twitter message.
PM Nawaz and COAS arrived in Riyadh on Wednesday to witness the military exercises as well as hold talks on the regional and bilateral issues. Upon their arrival, the prime minister and the army chief were received at the King Saud Airport by the Prince Muhammad bin Salman and other high-ranking officials.
Meanwhile, Special Assistant to Prime Minister on Foreign Affairs Tariq Fatemi is also accompanying PM Nawaz and COAS on the three-day official visit to Riyadh.
The visit comes on the invitation of King Salman bin Abdul Azizto witness the military exercises, as well as hold talks on the regional and bilateral issues.
A number of leaders from other allied countries have also been invited to witness the ongoing military exercise and its closing ceremony.
Troops from 21 countries, including Pakistan, are participating in the exercise, in the northern region of Saudi Arabia. The main aim of the exercise is to improve training to respond to threats posed by terrorist groups.
Earlier Pakistan's top civil and military leadership decided to expand its engagements with Saudi Arabia and will offer military training to the Saudi troops, provide it military hardware and share intelligence.
During the visit, Pakistani leadership will offer to expand its cooperation with Saudis apart from its support for the 34-nation coalition of Islamic countries cobbled together by Saudi Arabia to fight terrorism.Sources said during their visit, the civil and military leadership might offer a long-term training programme for Saudi Arabia's military.