Pakistan
End of 2015: Shiite News issued logo based on major incidents took place during the year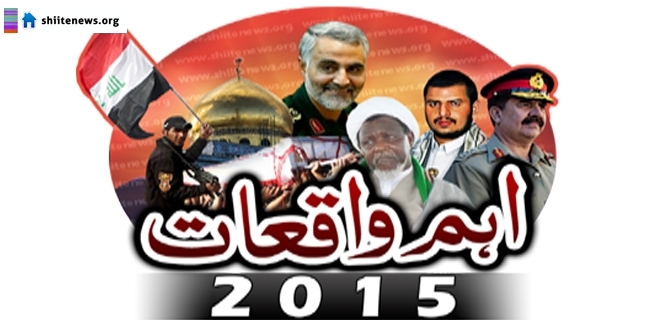 End of 2015: Shiite News issued logo based on major incidents took place during the year
Shiite News: At the end of 2015 media team of Shiite news has issued a logo keeping in view the major incidents of the year. According to Shiite news' media team, different pictures are shown in the logo which focus our attention towards different but important happenings took place during 2015. Details of those incidents are as follows:
Haram of Syeda Zainab (sa)
The most important reflection in the logo is of Haram of Syeda Zainab (sa) that points towards the fact that the shrine of Syeda Zainab (sa) has lasted but those threatening to destroy it have gone to hell. The mausoleum is announcing the defeat of terrorists in Syria.
Qasim Soleimani
The picture of the Commander of Army of the Guardians of Islamic Revolution Qasim Soleimani points towards their successes and defeat of Israel and Daesh and the credit of all that goes to General Qasim Soleimani.
Raheel Sharif
General Raheel Sharif's picture in the logo directs the attention towards his important decision of not involving Pakistan in Yemen war and hence, saved Pakistan from getting involved in a new war and at the same time Saudi Arabia was ashamed that always consider Pakistan as its slave. In addition to this, terrorists, although few, were hanged for the first time.
Abdul Malik Houthi
He fought against the ongoing Saudi aggression in Yemen and have been persistent in that.
Sheikh Ibrahim Zakzaky
Ayatollah Sheikh Ibrahim Zakzaky's picture points towards the miserable incident of Nigeria.
Iraq's flag
Iraq's flag is pointing towards Daesh's defeat in Iraq and liberation of Iraqi people. Iraqi people stood up for their country's defense in 2015 which is becoming the reason for Daesh's downfall there.
Coffin
A coffin is also shown in the logo that directs our attention towards those people (martyrs) who gave their lives in GOD's way and in the war against terrorism.