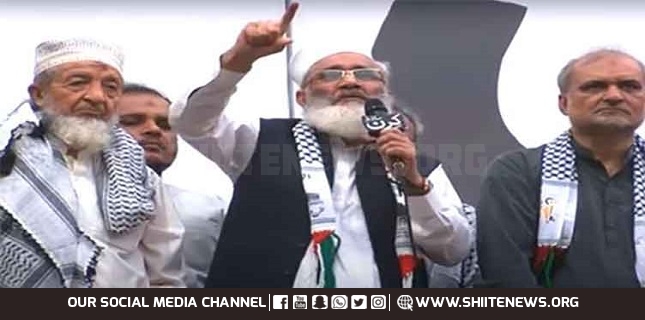 Shiite News: Amir Jamaat-e-Islami Pakistan Siraj-ul-Haq said in a conversation with the media in Lahore that the indifference shown by the Muslim rulers on Palestine is condemnable.
43 days have passed since the bombing of Gaza, Israeli forces have killed 4000 children.
Siraj-ul-Haq said that the rulers of Islamic countries are silent on Palestine because of American fear.
The role of Pakistani rulers and political parties on Gaza also falls into the category of silence. Siraj-ul-Haq said that Jamaat-e-Islami is raising its voice for Palestine in the country.
Today we will organize historic and exemplary Gaza March in Lahore, Lahore Gaza March will be a message for the people of Palestine. Pakistanis are with them.
Sirajul Haque said that the Lahore Gaza March is to wake up the rulers of Pakistan and other Islamic countries.
Residents of Lahore are requested to participate in the Gaza March along with their families.