Pakistan
Sindh Assembly demand arrest of Deobandi TTP terrorists for schoolchildren massacre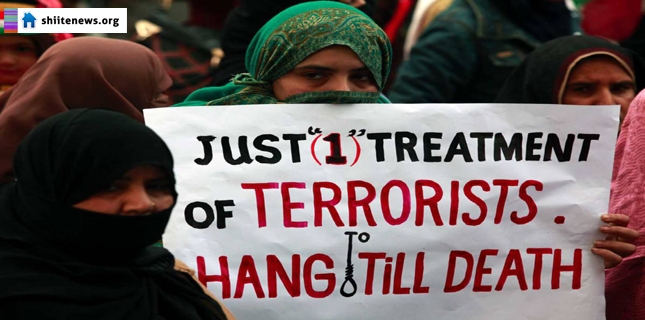 On the chehlum (the 40th day) of the 145 students and teachers massacred by the Deobandi takfiri Taliban terrorist in an attack on the Army Public School in Peshawar on December 16, the provincial assembly of Sindh province unanimously passed a resolution on Monday condemning the brutal attack.
All the lawmakers in the House stood up and offered special prayers for the students and teachers. They also prayed for the early recovery of the students, teachers and security personnel injured in the attack.
The resolution was separately read by Pakistan People's Party MPA and education minister Nisar Ahmed Khuhro, Shaharyar Mahar of the Pakistan Muslim League-Functional, Muttahida Qaumi Movement's Khawaja Izhar-ul-Hassan; Pakistan Muslim League-Nawaz's Shafi Muhammad Jamot and the PPP's Mahesh Kumar Malhani.
It read: "We condemn from the core of our hearts the barbaric, brutal and cowardly attack on the Army Public School, Peshawar, Khyber Pakhtunkhwa on 16 December, 2014 and the Taliban who left 132 students between the age of six and 14 years and some staff members dead and an equal number of others injured. We not only condemn but demand the arrest of the culprits immediately so that they may be convicted and awarded exemplary punishment for this heinous crime. We also convey our heartfelt message of condolence to the bereaved parents and their kith and kin that may Allah the Almighty keep their loved ones' souls in peace."
Finance Minister Syed Murad Ali Shah belonging to the PPPP suggested that the word "dead" in the resolution be replaced with "martyred".
Afterwards, in consultation with the parliamentary leaders of the political parties, speaker Agha Siraj Durrani adjourned the session till Tuesday (today) in respect and memory of the victims.