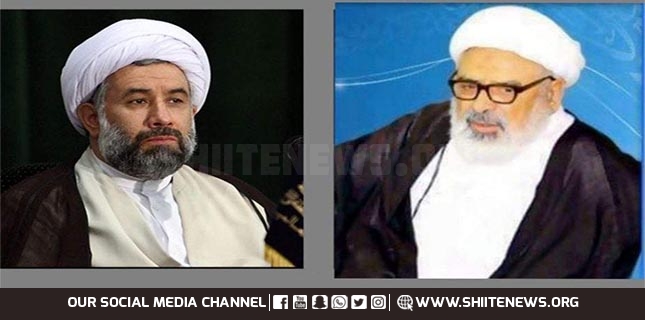 Jamia al Mustafa head condoles death of Maulana Shaikh Nauroz Ali Najafi, senior Shia Islamic cleric and Arabic literature.
Pakistan's veteran Shia Islamic cleric Maulana Sheikh Nauroz Ali Najafi passed away on April 03.
Jamia al Mustafa head condoles death of Maulana Shaikh Nauroz
Al Mustafa International University head Hujjatul Islam Dr Ali Abbasi issued a condolence message over sad demise of Maulana Shaikh Nauroz.
He remembered the administrator of Jafaria Islamic seminary Shaikh Nauroz as the sincere and pro-scholar Islamic cleric.
He said new of his passing away saddened him the most.
Jamia al Mustafa al Alamia's head further lauded Shaikh Nauroz as pious scholar who encouraged and patronized pupils and junior scholars.
He also eulogized his blessed life which continued until his demise.
Moreover, he offered condolences to the Islamic seminaries of Pakistan, his team and pupils and particularly his family members.
Shaikh Nauroz originally belonged to Nagar town of Gilgit-Baltistan region but he later settled in Karachi.
After having graduated from Hawza Ilmiyah of holy Najaf city, he began teaching Arabic literature and Islamic education.
Senior Shia Islamic cleric Shaikh Nauroz had remained a pupil of Ayatollah Sheikh Mohsin ul Hakim, Ayatollah Baqir al Sadr, Ayatollah Abul Qassem al Khoei and Ayatollah Modarres Afghani.
In Pakistan, Sheikh Nauroz served Madressah Jafaria as teacher and later as its administrator and patron.
Besides, he left behind a rich scholarly legacy which his pupils inherited from him. Presently, his students are teaching as senior pedagogues across the country.
Meanwhile, academic circles revere him as an expert in Arabic literature and the best administrator of Islamic seminaries.
May God rest him in eternal peace.