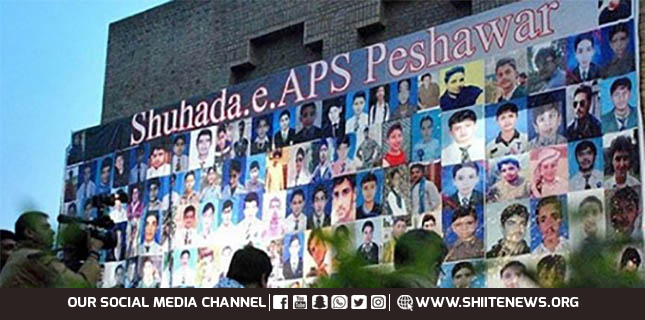 Pakistani nation observes 6th anniversary of Army Public School massacre in which terrorists particularly targeted innocent schoolchildren.
The tragic incident of terrorist attack took place in 16th December 2014.
Pakistani nation observes 6th anniversary
Notorious TTP (Taliban) terrorists massacred one hundred forty-seven people, including students and teachers.
Then spokesman for the Tehreek-e-Taliban Ehsanullah Ehsan had issued a statement wherein the Pakistani Taliban claimed responsibility for the APS terrorist attack.
The families of the victims of the APS Tragedy have been protesting to seek justice since then.
Although the Pakistan security forces had nabbed Ehsanullah Ehsan, he had not faced trial for this heinous crime against humanity.
Instead, he reportedly enjoyed a different sort of detention in isolation.
From there, he fled at ease, while Indian media became the first to break the story that Ehsanullah Ehsan was no more in the custody of Pakistan.
That immensely shocked the entire Pakistani nation but the authorities concerned don't share facts with the nation what happened.
Outlawed Tehreek-e-Taliban belongs to Deobandi sect that turned into violent extremist hatemongering ideology in Pakistan after having embraced Saudi monarchy's religious ideology.
That marriage of convenience with the Saudi Salafism-Wahhabism gave birth to Anjuman Sipah Sahaba (ASS) in 1980s.
Lashkar-e-Jhangvi came into being from Sipah Sahaba in 1990s.
Pakistani Taliban follows the same ideology of hatred and bigotry.