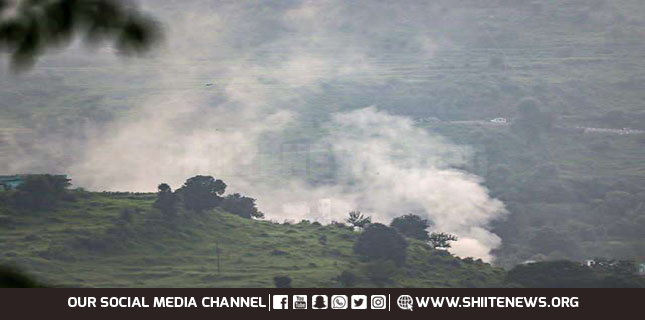 Pakistan inflicts heavy losses to Indian soldiers in men and material when Pakistan Army troops responded befittingly to unprovoked Indian aggression at the Line of Control (LoC) on Wednesday.
According to DG ISPR's tweet:
Indian troops initiated CFVs in Khuiratta Sector along #LOC. Pakistan army troops responded befittingly. Reports of heavy losses 2 Indian troops in men & material. During exchange of fire, while fighting valiantly, 2 soldiers, Lance Naik Tariq & Sepoy Zaroof embraced shahadat.
Pakistan inflicts heavy losses to Indian soldiers
But Pakistan's response dealt "heavy losses" to Indian soldiers in men and material, according to the director-general of the Inter-Services Public Relations (ISPR).
However, two soldiers of the Pakistan Army, Lance Naik Tariq and Sepoy Zaroof, embraced martyrdom as a result of the exchange of fire.
The DG ISPR tweeted about the confrontation between the two armies at the LoC, stating that Indian troops violated the ceasefire agreement yet again in the Khuiratta sector.
Earlier, Secretary of State Michael Pompeo had announced that the US had designated Pakistan, China, Iran and other countries under that list.
Moreover, he also named Saudi Arabia, Tajikistan, Turkmenistan, Nigeria, North Korea, Myanmar and Eritrea among CPC.
Pompeo's statement accused these countries of "engaging in or tolerating "systematic, ongoing, egregious violations of religious freedom".
Pakistan rejects US designation on religious freedom blacklist
On Wednesday, the Foreign Office rejected the United States' designation of Pakistan among "countries of particular concern.
While citing the glaring omission of India from the blacklist, it said the US report raised doubts about the credibility of the process.
Furthermore, the FO termed it an arbitrary and selective assessment.
In a statement, the FO turned down the designation as completely against the realities on the ground.