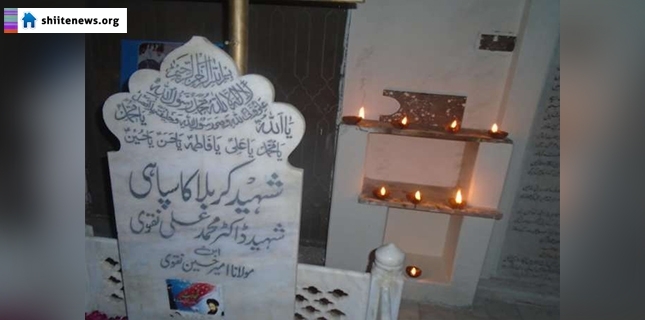 25th anniversary of martyrdom of Dr Mohammad Ali Naqvi observed in Lahore, Karachi and other parts of the country today.
Dr Naqvi founded Imamia Students Organisation (ISO) and served humanity, let alone students or Shia community.
The ISO also organized events to commemorate the martyrdom anniversary of its founder at his grave.
Besides, the family, the organization and his admirers hosted mourning congregations, seminars and conferences to pay homage to him.
25th anniversary of martyrdom
Main event held Nawab Sahib Ali Raza Abad on Raiwind Road.
Religious scholars, martyrs' families and ISO officials expressed their views on martyrs and especially the great martyr Dr Mohammad Ali Naqvi.
Imamia Scouts Parade and Guard of Honour at the grave of the great martyr remains the regular annual feature of the anniversary
Dr Naqvi continues to remain source of inspiration for youth to date even after his martyrdom.
He led a simple life and altruistically served the oppressed humanity.
Dr Naqvi also served Pakistan as a medical doctor and a social worker without sectarian discrimination.
Politically, he co-pioneered and kept active the Tehreek-e-Jafaria, Imamia Organisation and Pasban-e-Islam as well.
He embraced martyrdom in takfiri terrorist attack on March 07, 1995.
His driver and loyal comrade Mohammad Taqi also embraced martyrdom alongside him in Lahore.