Pakistan
Scores martyred and injured due to police attacks on peaceful Revolution March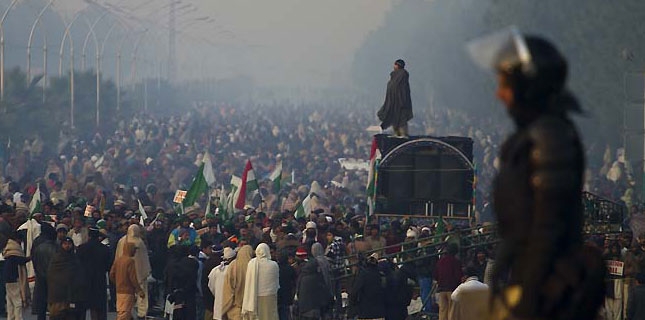 Many anti-government protestors were martyred and around 500 injured due to brutal attacks made by Police in Red Zone area of Islamabad near Parliament House. 
Till the filing of this report on Sunday evening, official sources confirmed three deaths while leaders of the Long March and Freedom March said that at least a dozen of their comrades were martyred.
Leaders of Shia-allied Sunni parties Long March and its allied Freedom March announced they would shift their peaceful sit-in outside Prime Minister House to mount pressure on the PMLN government and Prime Minister Nawaz Sharif in particular that they must accept all the legitimate demands of the Long March and Freedom March including resignations of Prime Minister and his brother Shahbaz Sharif,. Chief Minister Punjab.
The government that is an ally of banned Yazidi takfiri nasbi terrorist outfits ordered use of force to the Punjab Police and Islamabad Police. Punjab police led the brutal action and due to their firing and tear gas shelling, innocent Pakistani Muslims were martyred and injured. Police claimed they used rubber bullets but the hospital sources confirmed that they 5 persons sustained real bullets injuries.
Later, on the pressure of the government, hospital officials changed their stance. A lady official of the PIMS is said to be daughter in law of the PMLN official Majeed Malik. Reports had it that takfiri terrorists were also brought there and they were clad in police uniforms.
Government officials forced the injured either leave the hospitals or took them into police custody. They also attacked media persons and brutally tortured them.
Majlis-e-Wahdat-e-Muslimeen condemned the attack and attempts to arrest MWM officials including Allama Raja Nasir Abbas Jafari. Nasir Shirazi of the MWM was also injured due to police attack. Many Shia supporters of the MWM were detained in police crackdowns.