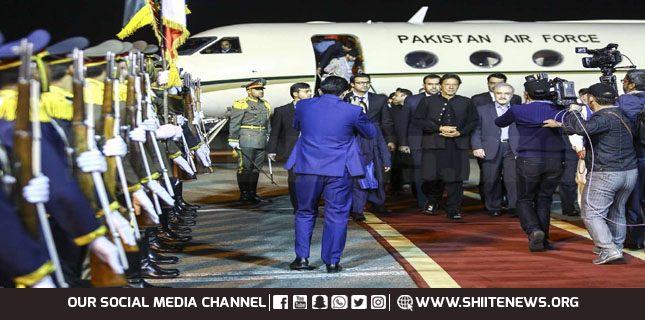 Prime Minister Imran Khan lands in Iran for quadrilateral shuttle diplomacy in which Pakistan remains messenger/mediator between Saudi-Iran and US-Iran.
Imran Khan shuttle diplomacy
Particularly, it remains tripartite affair with Saudi and US on one hand and Iran on the other. However, Pakistan's role as mediator/facilitator or messenger make it quadrilateral matter.
According to Radio Pakistan, he has left for one-day official visit to Iran.
Furthermore, he will again meet Supreme Leader of Islamic Revolution Ayatollah Seyyed Ali Khamenei in Tehran.
Prior to that, PM Khan will also call on Iranian President Dr Hassan Rouhani and his team.
Notably, Prime Minister's visit aims at promoting peace and security in the region.
Moreover, Foreign Minister Shah Mahmood Qureshi and Special Assistant to PM on Overseas Pakistanis Sayed Zulfiqar Abbas Bukhari also accompanied him.
Besides issues relating to peace and security in the Gulf, bilateral matters and important regional developments will come under discussion.
It may be cited that the Prime Minister also had a bilateral meeting with the President of Iran on the sidelines of 74th UNGA Session in New York in September 2019.
From Iran, PM Khan may fly to Saudi Arabia to further his regional diplomatic mission.
Imran Khan shuttle diplomacy
Although Saudi monarchy has remained silent, Imran Khan claimed he was mediating on their behalf.
Particularly, on the sidelines of UNGA annual summit in New York, he made this claim.
However, he had said that US President (#POTUS) Donald Trump had asked him so. As per his assetion, Kingdom and #POTUS45 asked him for talks with Iran.
But, President Trump clarified he didn't ask Prime Minister of Pakistan.
MBS also asked Imran to talk to President Rouhani
According to DAWN report, PM Khan had said that prior to arriving in New York he had visited Saudi Arabia where he spoke to Saudi Crown Prince Mohammed bin Salman.
And MBS also asked him (IK) to talk to Iranian President Rouhani.
Iran welcomes Pakistan efforts
Furthermore, he said that Iran welcome such efforts, including those by Pakistani Prime Minister Imran Khan.
Javad Zarif cited that Iran never rejected any intermediary and always remained open to mediation and direct talks with Saudi Arabia.
Moreover, he pointed to the fact that neighboring Saudi Arabia and Iran to remain here permanently; hence they don't have any choice but to talk to each other.
Backgrounder
Pakistan eyes shuttle diplomacy to help end Saudi Iran tension as Prime Minister Imran Khan plans to visit said two countries.
In this regard, Ministry of Foreign Affairs also has not ruled out the possibility of Imran Khan's visit shortly.
Notably, Foreign Office Spokesperson Dr Mohammad Faisal told the media on Thursday that he would update the media soon.
Furthermore, he said that the possibility of Prime Minister Imran Khan to Saudi Arabia and Iran remains on the cards.