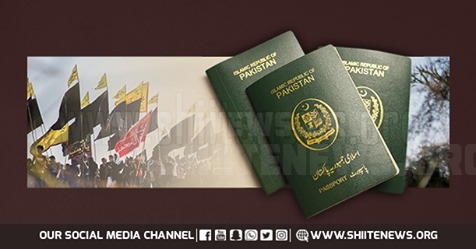 Shia notables efforts for Iraq Arbaeen visa bear fruit as Pakistan government announced settlement of issues in this regard.
Particularly, Foreign Minister Shah Mehmood Qureshi announced that all issues relating to Iraq Arbaeen visa resolved.
Shia notables efforts
However, credit for this success goes to Shia notables first and then to Pakistan government officials.
It remains relevant to add that MWM leaders Allama Raja Nasir Abbas Jafari, Shafqat Shirazi and Asad Abbas Naqvi played their role. They sent letters and held meetings with concerned officials to settle the issue.
Furthermore, office of Ayatollah Bashir Najafi also played active role in this regard.
Moreover, Allama Shahenshah Naqvi raised this issue in his meeting with Prime Minister Imran Khan.
PTI government officials and close aides of PM Khan such as Zulfi Bukhari and Nadeem Afzal Chan took up the matter as well.
Finally, Ministry of Foreign Affairs and Minister for Religious Affairs Pir Noorul Haq Qadri interacted with Iraq embassy in Islamabad.
Meanwhile, acting Charge d'affaires at Iraqi embassy in Islamabad also coordinated and helped.
Arbaeen Pilgrimage
Most importantly, Pakistanis go to pilgrimage of sacred shrines. Although they regularly visit shrines of infallible Imams of Shia Islam, yet 20th Safar remains reserved for pilgrimage of Karbala.
Notably, Zaireen (pilgrims) regularly visit holy shrines of infallible Imams of Shia Islam in Iraq, Iran and Medina .  But, they commemorate anniversary of 40th day (Arbaeen in Arabic and Chehlum in Urdu) of martyrdom anniversary of Ashura on 20th Safar.
Ashura to Arbaeen
Factually, Ashura too remains a special day of scared mourn in Shia Islam. That's because of matchless martyrdoms of Imam Hussain-led Martyrs of Karbala. However, infallible leaders of Shia Islam had emphasised on pilgrimage of sacred shrine of Imam Hussain on Arbaeen.
Hence, Shia Muslims try their level best to reach Karbala (Iraq) on 20th Safar.
Bacground of Arbaeen Visa Policy for Pakistanis
Punjab Government focal person for inter-faith ramony yed Asad Abbas Naqvi dispatched this letter to Iraqi ambassador to Pakistan.
Furthermore, he requested the diplomat to ask Iraq government to relax Arbaeen visa policy for Pakistanis.
The official noted with concern that this year, Iraq governemnt changed visa policy for Pakistanis.
Moreover, he pointed to the fact that embassy and consulates issue visas but Iraq wants approval from Baghdad.
However, he reminded that this different visa policy will also deprive Pakistanis of Arbaeen pilgrimage, let alone financial losses.
Therefore, Asad Abbas Naqvi asked Iraqi ambassador to play role in resolving this issue at the earliest.