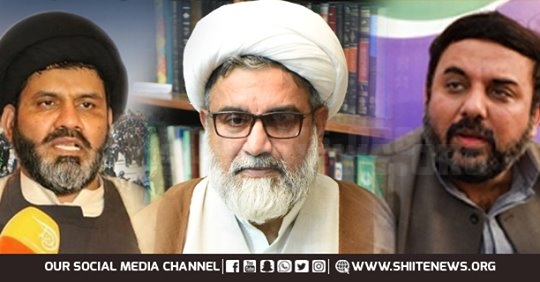 MWM leader sends letter to Iraqi PM on Arbaeen visa problems amid widespread complaints from Pakistani Zaireen (pilgrims).
Besides, Allama Raja Nasir Abbas Jafari also directed Majlis-e-Wahdat-e-Muslimeen Foreign Affairs head Allama Shafqat Shirazi in this regard.
On directives of MWM Pakistan secretary general, Allama Shafqat also interacted with Iraqi parliamentarians and public opinion makers. He briefed them on Pakistani Zaireen's problems in getting approved visas.
Meanwhile, MWM Political Affairs head Asad Abbas Naqvi contacted special assistant to the Prime Minister Zulfi Bukhari.
The latter assured that he would leave no stone unturned to address the problem.
Furthermore, MWM leadership cited that Iraqi government had made different policy for Pakistan and Bangladesh. Otherwise, Iraqi consulates in other countries enjoy authority to issue visas.
Therefore, they demand Iraqi government must allow its consulates in Pakistan to issue Arbaeen visas. In Pakistan, Iraq's Islamabad embassy alone can issue visas and Iraqi consulates not allowed to do so.
Most importantly, Pakistanis, mostly Shia Muslims go to pilgrimage of sacred shrines of infallible Imams of Shia Islam. But, 20th Safar of Islamic lunar calendar remains reserved for pilgrimage of Karbala.
Although Zaireen (pilgrims) regularly visit holy shrines of infallible Imams of Shia Islam in Iraq, Iran and Medina (present-day country KSA) throughout the year. Yet, 20th Safar remains anniversary of 40th day (Arbaeen in Arabic and Chehlum in Urdu) of martyrdom anniversary of Ashura.
Factually, Ashura too remains a special day of scared mourn in Shia Islam because of matchless martyrdoms of Imam Hussain-led Martyrs of Karbala. However, infallible leaders of Shia Islam had emphasised on pilgrimage of sacred shrine of Imam Hussain on Arbaeen.
Hence, Shia Muslims try their level best to reach Karbala (Iraq) on 20th Safar.
Arbaeen visa problems