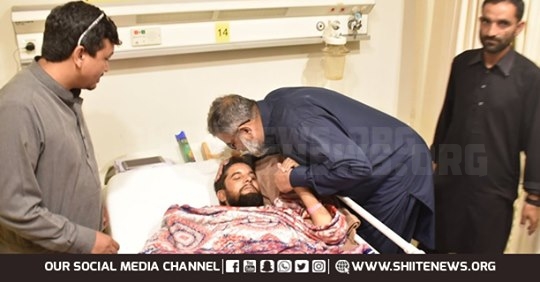 MWM leader Allama Raja Nasir visited CMH to see injured of Babusar mishap.
Notably, he also announced Rs50,000 cash aid to them on behalf of MWM GB SG Allama Agha Ali Rizvi.
Furthermore, MWM Pakistan secretary general inquired after health of the injured of Gatti Das Babusar road accident.
Moreover, Media Coordinator Mazahir Shigri also accompanied him during visit to Combined Military Hospital Rawalpindi.
Factually, eminent clerics of Gilgit Baltistan also passed away leaving Shia community in shock and grief.
The bus carrying passengers lost control and collided with mountains at Naran's Gatti Das.
Unfortunately, many Shia Muslims passed away in the mishap. Moreover, the victims also included Pak Army soldiers.
Two distinguished scholars were going to Iraq for pilgrimage of sacred shrine of Imam Hussain on Arbaeen.
As per Shia Islamic belief, such victims of mishaps and accidents too enjoy the status of martyr.
Meanwhile, MWM secretary general Allama Raja Nasir Abbas Jafari also expressed grief over loss of two great scholars.
The accident happened in the Babusar Top area, bordering Khyber Pakhtunkhwa province with Gilgit-Baltistan.
As many as 27 people including 10 soldiers had died in that road accident.
Reports had it  that the passenger bus, moving from Skardu to Rawalpindi, hit a rock and skidded off into a ravine. But, Police claimed that the bus crashed into a mountain. The area remains almost three hours away from Naran and Chilas
Although ordinarily a panoramic viewpoint for tourists visiting the Kaghan Valley, not the first time Babusar Top made headlines.
In 2012, notorious terrorists pulled 22 Shia Muslims out of a passenger bus. Then they shot them dead.
However, the Babusar Top remains under use for travel from Naran to Gilgit or Skardu since  considered a shorter and more pleasant route than the Karakoram Highway route from Besham.