Middle East
Syrian army struck the terrorists' hideouts in Bidama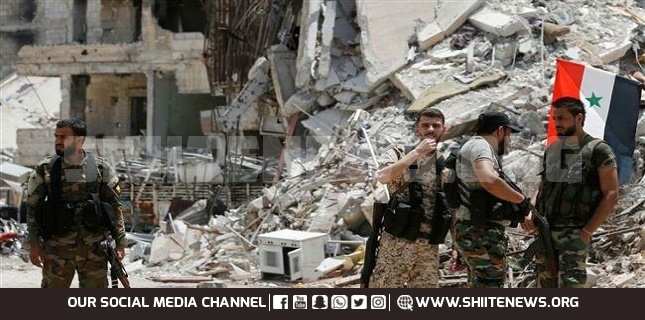 The Syrian army has taken targets belonging to the Takfiri Jabhat Fateh al-Sham terrorist group in the country's east under heavy retaliatory fire for another day.
On Sunday, government forces struck the terrorists' hideouts in Bidama Village on the southern countryside of the city of Idlib, the official Syrian Arab News Agency (SANA) reported.
Over the past several days, the army has ratcheted up its operations on the outskirts of Idlib and the city of Hama, both provincial capitals, in response to attacks by terrorists targeting military positions and towns lying within a de-escalation zone located inside Idlib Province.
On Saturday, the troops hit the same whereabouts near Idlib, killing and injuring a number of the terrorists. Three days earlier, the forces had worked to choke up the terrorists' transit routes during counterattacks in the villages lying around the cities.
Jabhat Fateh al-Sham was formerly known as al-Nusra Front.
The Syrian government has retaken almost all the territory that militant groups — including al-Nusra and other terrorist outfits — had overrun in the country since a conflict erupted in 2011.
Under agreements between Syrian peace guarantors Russia, Iran, and Turkey, remaining militants were given safe passage into Idlib, where they remain pending decisions by the three countries.
Iran and Russia represent Damascus, and Turkey acts on behalf of the Syrian opposition.
While agreements, including any ceasefire deals, apply to some militant groups in Idlib, terrorist groups such as al-Nusra are excluded from the peace process for Syria.