Lebonan
Israel after judaization of Jerusalem to seize al-Aqsa Mosque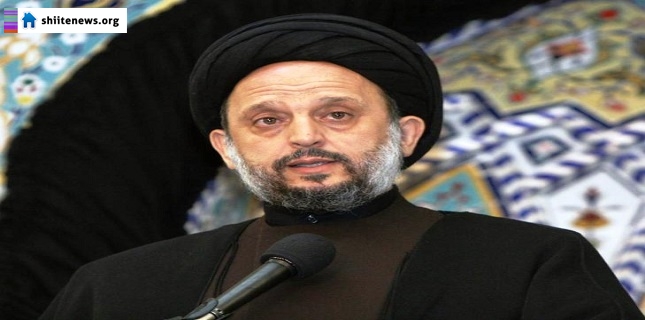 Hujjat al-Islam Sayyid Ali Fadhlullah condemned the criminal acts against the Palestinian people by the Israeli army and Zionist settlers in the West Bank.
His Eminence mentioned the actions against humanity that the Israeli occupying forces have committed include the killing of women and children, the confiscation of Palestinian land and the violation of the sanctities of Muslims.
"All these actions are considered war crimes and were accomplished in line with their policy of war planning," he said.
Hujjat al-Islam Fadhlullah said that the Zionist regime's inhumane project consists of several parts and stressed that the main component of their project is targeting Palestinian families and killing their children. "Israel does not hesitate to destroy the focus of Palestinian households," he said.
The renowned Lebanese scholar stated that Israel's killing of Palestinians in the West Bank is an example of genocide and stated: "The discrimination and violence against the Palestinian people and efforts to expel the remaining Palestinians in the West Bank are part of Israel's program to Judaize Jerusalem al-Quds so they can easily seize the al-Aqsa Mosque."
He condemned silence of Arab Islamic in the face of the Zionist regime's crimes in Palestine and said that the religious scholars expect the authorities in Arab countries to give the Palestinian issue priority and to support the oppressed Palestinian people in public forums.
Hujjat al-Islam Fadhlullah also emphasized that merely condemning Israel is not enough. "In order to liberate Palestine from the clutches of colonialism there must be swift action on the ground to help the Palestinian people. Islamic and Arab countries must use all the facilities at their disposal to support the Muslims in the region," he emphasized.
In another part of his sermon, His Eminence stated that the Iranian nuclear deal has led to the beginning of a new phase in the Middle East. He said such negotiations can lead to initiatives and solutions to end the crises in the region and remove the concerns and fears that can be the causes of the ignition of conflict and destruction.
He called on regional countries to join together to fight Takfiri terrorism which is a region-wide concern.
Hujjat al-Islam Fadhlullah remarked on the latest Takfiri criminal act, the bombing of a mosque in the Saudi city of Abha and condemned this grave "crime and act of terrorism" which led to many casualties and revealed the true nature of terrorism, which does not exclude a group or religious sect.
He also stated that we must not forget what happened in Hiroshima and Nagasaki, where the use of nuclear weapons led to mass human and environmental destruction. He stated that the world needs to agree on the elimination of weapons of mass destruction as they lead to the destruction of life.