Lebonan
Union of resistance ulima highlights Muslim unity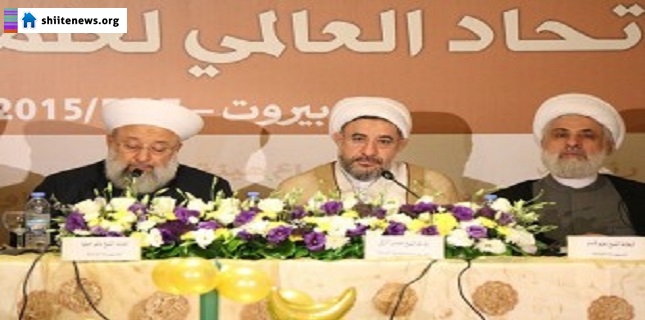 Ending the first work day of the international conference of resistance ulima in the Lebanese capital of Beirut, Sheikh Maher Hamoud, Sunni cleric from Lebanon read the proposal plan of the assembly.
The plan includes main headings on belief, method, political tendencies, scientific tendencies and the issue of Palestine.
Under the title of belief, importance of the common Islamic principles, particularly holy book of Islam and lifestyle of Prophet Mohammad (PBUH) were discussed.
Lifestyle of Prophet Mohammad (PBUH) is the second reference in Islam through which holy Qur'an can be understood besides the quotes by the household and companions of the Prophet to clarify the real and fake quotes throughout the history of Islam.
This proposal also referred to the Qur'an verses on the importance of solidarity among Muslims adding that Muslims have to struggle for uprooting the disagreements and religious or sectarian differences.
Under the second theme for this proposal, strategy, Muslim scholars highlighted necessity of calling the people to God Almighty and providing a true image of Islam by using the experiences of Muslims through the history.
Participants in this conference also stressed that history of Islam is full of struggles for calling the people to Islam and fought the oppressive rulers of their time and added that the duty of Muslim scholars is to recommend the rulers to the right path, avoiding any war, struggling for promotion of Islam and also trying for the best results.
According to this proposal all Muslim scholars have to launch an Islamic government based on which the rulers carry out Islamic sharia.
All Islamic experiences and contemporary history have to be reviewed so that making more mistakes is prevented and the common objectives of the Muslim states realize.
Highlighting the political mottos of the Islamic republic, including mottos on the uprooting the Zionist regime of Israel, national unity and confrontation with the world arrogant powers as the Islamic mottos beyond any religious dependence.
Also highlighting the theory of jurisprudence for strengthening the Islamic sharia on one hand and prioritization of confrontation with the Zionist regime of Israel on the other hand as the axes that have united Shia and Sunni communities were among the paragraphs in this proposal.
Underlining the scientific research and the issue of Palestine were among the other themes discussed in this session out of which the latter has been called an Islamic mission for all Muslims.
Conference of the Union of Islamic Resistance opened on Wednesday in Beirut. The meeting will continue until Friday for the other committees of the union to meet and discuss the issues in the world of Islam.