Lebonan
Hezbollah resistance forces intercept, fire shots at intruding Israeli drone in southern Lebanon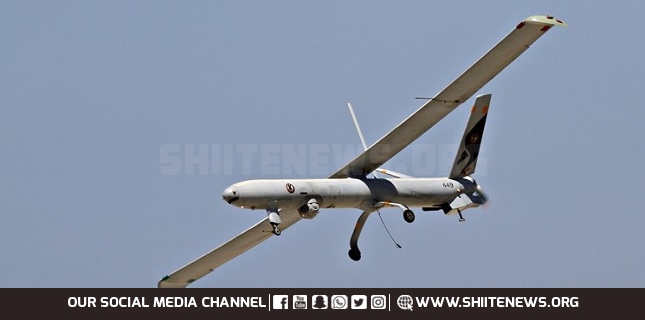 Fighters from the Lebanese resistance movement Hezbollah have intercepted and fired shots at an Israeli drone that was hovering over the southern part of Lebanon, as the Tel Aviv regime's violations of the Arab country's sovereignty continue unabated.
Lebanon's Arabic-language online newspaper Elnashra reported that Hezbollah air defense units fired at an Israeli drone that had entered the Lebanese skies and was hovering over Meidoun village in the country's southern district of Western Beqaa early on Friday.
Last month, Elnashra reported that an Israeli unmanned aerial vehicle that had crossed into Lebanon's airspace went down in al-Wazzani village, which lies in the Hasbaya district of the country's southern Nabatieh province.
Lebanon's Arabic-language al-Mayadeen television news network, citing a statement released by the Lebanese Armed Forces, reported on May 26 that an Israeli Skylark drone had crashed on the outskirts of Rmeish village in the district of Bint Jbeil.
The report added that the Israeli military forces attempted to recover the unmanned aerial vehicle afterwards, but Lebanese army troops assumed control over it first.
The statement also said that the Israeli violation was being followed up in coordination with the United Nations Interim Force in Lebanon (UNIFIL).
Last month, Hezbollah published a video threatening the gas extraction infrastructure at the Karish offshore field, near a disputed maritime border between Lebanon and Israel.
The video footage, which also contains a rare glimpse of Hezbollah weaponry, was broadcast on Lebanon's Arabic-language al-Manar television station.
It was issued by Hezbollah's War Media Department, which the group uses to broadcast footage of military operations and battles and contains images of ships involved in drilling for and extracting hydrocarbons along with what appears to be their coordinates.
The video begins with the words of the group's secretary-general Seyyed Hassan Nasrallah during a recent speech in which he warned that "playing with time is not useful" on the maritime issue.
Lebanese politicians hope that commercially viable hydrocarbon resources off Lebanon's coast could help the debt-ridden country out of its worst economic crisis in decades.
Israel frequently violates Lebanon's airspace. Lebanon's government, Hezbollah and the United Nations Interim Force in Lebanon (UNIFIL) have repeatedly condemned Israel's overflights, saying they are in clear violation of UN Security Council Resolution 1701 and the country's sovereignty.
The resolution, which brokered a ceasefire in the war Israel launched against Lebanon in 2006, calls on the Israeli regime to respect Lebanon's sovereignty and territorial integrity.