Iraq
Bomb blast in Iraq,25 shia Martyred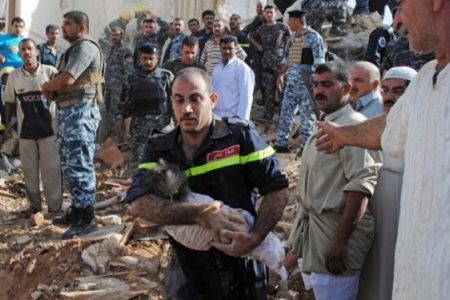 At least twenty-five Shia people have been Martyred in a massive bomb explosion north of the Iraqi capital of Baghdad, police officials say.
Seventy others were also wounded after a huge bomb exploded at a busy coffee house in the city of Balad Ruz in Diyala Province in central Iraq on Friday.
Some reports suggest that the attack targeted a gathering of local residents inside the building.
Women and children are among the casualties.
Iraq has been suffering attacks on an almost daily basis in the chaos that followed the US-led invasion of the country in 2003.
A suicide bomber wearing an explosives belt martyred at least 21 people on Friday in a town north of Baghdad, shattering what had been weeks of relative calm, the town's mayor said.
The suicide bomber blew himself up inside a popular cafe in the town of Balad Ruz, 45 miles (70 kilometers) northeast of Baghdad, said the town's mayor, Mohammed Maaruf. An additional 65 people were injured, he said.
The neighborhood where the explosion occurred is home to many Faili Kurds, a small sect of ethnic Kurds following the Shia branch of Islam, and many of the dead were Shias.
Feyli Kurds are largely a Shiite community living in Baghdad and Iraq around Khanaqin and Mandili. There are an estimated 2-3 million Feylis living in Iraq.
On Wednesday, three Iraqi policemen were killed in a roadside bomb explosion in the Hamreen region of Baquba city, in Diyala province.
Iraq's Monitor of Constitutional Freedom and Bill of Rights revealed on Sunday that 231 people were killed and 601 others wounded in the explosion of IEDs across Iraq in 2010.