Iraq
US troops using new base in Iraqi Kurdistan: Officials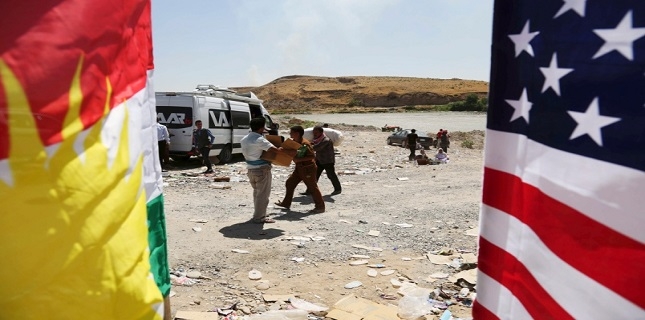 US forces have been deployed to Iraq's semi-autonomous Kurdistan region, Kurdish officials say, noting that the presence is part of the joint military campaign the two sides have been running against terror groups for months now.
Ari Harsin, the head of the Peshmerga Committee in the Iraqi Kurdistan Parliament, said the American personnel, together with a series of military equipment, were based near the region's capital Erbil.
The official denied speculation that the foreign presence would hinder the region's plans to hold an independence referendum.
Scheduled for September 25, the independence bid has been censured by the central government in Baghdad.
The US has also opposed the idea of an autonomous Kurdish state in Iraq, joining voices with major regional players, including Iran, Turkey and Syria, who have warned against partitioning Iraq.
Harsin, however, said the referendum indicated "the will of the Kurdish people and nobody was going to stop it."
The international community is concerned that the referendum could ignite a fresh conflict in the region, diverting attention from the ongoing war against Daesh Takfiri terrorists.
During a trip to Erbil in late August, US Defense Secretary James Mattis asked Kurdistan Regional Government (KRG) President Masoud Barzani to drop the bid and stay focused on the Daesh fight.
US to coordinate attacks from Erbil base
Meanwhile, Rashad Kalali, with the Committee for the Patriotic Union of Kurdistan in Erbil's Makhmur district, said the American troops have established a military base in southern Erbil, Iraq's al-Sumaria news website reported Wednesday.
The official said the US had also deployed a range of weapons in the base, including missiles, heavy artillery, tanks, armored personnel carriers and over 100 military vehicles.
Although American forces were already using the base as an attacking point against Daesh positions, they were ultimately going to use it as a command center to coordinate air and ground operations with the Iraqi armed forces and the Peshmerga in the final battle to free the town of Hawijah, Kalali said.
Located 45 kilometers west of the oil-rich northern city of Kirkuk, the city has been under the control of Daesh militants since June 2014, when the extremists' leader Ibrahim al-Samarrai aka Abu Bakr al-Baghdadi declared his self-styled "caliphate."