Iraq
Iraqis liberate 80 percent of Anbar from Takfiris: General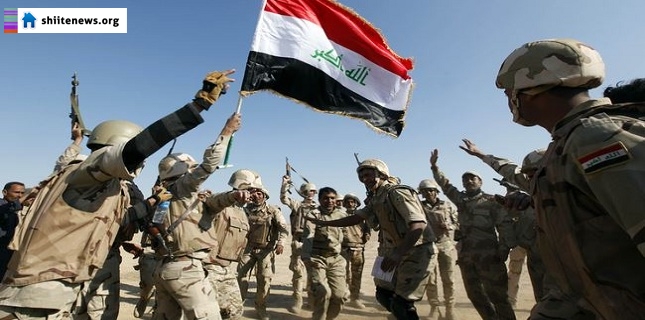 Iraqi army troops, backed by volunteer forces, have made significant gains in their anti-Daesh military operations, liberating more than 80 percent of the western province of Anbar from the Takfiri group, says an army general.
Quoting military officials, Iraq's Arabic news channel al-Sumaria said on Wednesday that the Iraqi forces gained control of several areas in the western and northern parts of the volatile province.
Brigadier General Yahya Rasoul, a senior Iraqi military official, confirmed that army units and volunteer forces liberated 80 percent of Anbar, adding that central parts of provincial capital Ramadi has been fully liberated from Daesh's grip.
"Iraqi forces are advancing in Anbar province after they managed to seize full control over central Ramadi," said Rasoul, adding, "The Iraqi army and popular forces are also retaking full control over the northern and southern parts of the Ramadi city."
The military has launched clean-up operations to flush out militants across the volatile province, the senior Iraqi army official said.
This comes as army forces made their way into Ramadi from several directions on Sunday
Iraqi military officials also said army troops and volunteer forces had managed to enter the city from the north and hoist the national flag over the al-Jarayeshi Bridge, cutting a major supply route used by Daesh Takfiris.
Dozens of Daesh terrorists have reportedly been killed during the ongoing mop-up operations across the region.
Ground troops were supported by Iraqi warplanes that targeted Daesh positions and cleared the path for the soldiers to move on, according to reports.
Iraq's Defense Ministry has vowed that the large-scale counter-terror offensive will continue until the city is fully cleared of Daesh militants.
Pro-government forces have already managed to push back Daesh from some key cities and towns, including Tikrit, which was completely purged of militants in late March.
The allied forces are planning to retake Anbar before they start their long-anticipated drive toward Mosul, Iraq's second largest city, which itself fell into the hands of Daesh last year.
Gruesome violence has plagued the northern and western parts of Iraq ever since Daesh launched its offensive in Iraq and took control of portions of the country in June 2014.