Iraq
Iraqis hold demonistration in solidarity with PM's reforms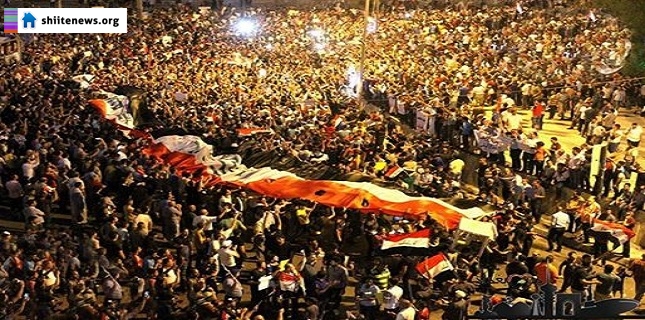 Dozens of Iraqis have held an anti-corruption demonstration to express their support for Prime Minister Haider al-Abadi's planned reforms aimed at uprooting graft and mismanagement in the violence-hit Arab state.
Protesters gathered at the Tahrir Square of the Iraqi capital city of Baghdad on Friday, demanding the implementation of Abadi's proposed changes to the country's political system intended to improve living standards and increase accountability.
Shouting slogans, the demonstrators also expressed their dissatisfaction with what they called poor public services, especially power cuts and water shortages.
A banner was hanging high at the venue, reading, "Bread, Freedom, Civil Country, Social Justice."
On August 11, the Iraqi parliament unanimously approved a comprehensive plan proposed by the Iraqi premier in a bid to eradicate corruption and reduce government costs.
As part of the initiative, Abadi eliminated Iraq's three vice president and three deputy prime minister positions. He also cut politicians' security details and dismissed 123 deputy ministers and general managers.
Iraq's most senior Shia cleric, Grand Ayatollah Ali Sistani, said recently that the reform campaign must continue, and the government must quickly prosecute the "big thieves of public funds."