Iraq
About 130 ISIL Takfiris slain in Iraqi army mop-up operations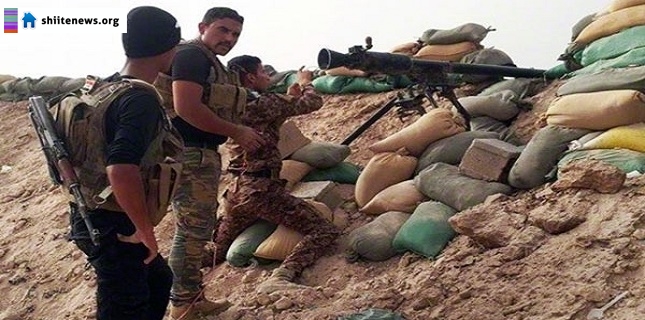 Iraqi government forces, backed by Popular Mobilization units, have engaged ISIL Takfiri militants during a series of clean-up operations across the crisis-stricken Arab country, killing dozens of the extremists in the process.
According to a statement released by the Iraqi Defense Ministry on Thursday, a total of 21 ISIL militants were killed after Iraqi troopers launched a number of rockets against terrorist hideouts in the city of Fallujah, located roughly 69 kilometers (43 miles) west of the capital, Baghdad.
A Saudi citizen, identified by the nom de guerre, Abu Abdullah al-Saudi, was among the slain terrorists.
The commander of the 3rd Battalion of the Iraqi Army's 30th Brigade, Colonel Mahmoud Morzi al-Jumaili, also told Arabic-language al-Forat news agency that volunteer fighters had killed 25 ISIL terrorists and injured 100 others, among them foreigners, as they repelled the Takfiris' assaults on the al-Lahib, aL-Baijat, and al-Hitawin regions of al-Karmah town, located 48 kilometers (30 miles) west of Baghdad.
The Iraqi commander added that a fierce exchange of gunfire between Popular Mobilization forces and ISIL militants broke out in the early hours of Thursday, and continued up until 8 a.m. local time (0500 GMT).
Separately, Commander of Samarra Operations Major General Emad al-Zahiri said 21 ISIL extremists were killed as Iraqi warplanes struck a road west of Jazirat Samarra district in the northern province of Salahuddin.
Moreover, at least five ISIL members were killed when Iraqi fighter jets launched precision strikes against terrorist hideouts in the town of al-Qa'im, which lies near the Syrian border and is located nearly 400 km (248 miles) northwest of Baghdad.
Iraqi security personnel together with Popular Mobilization units also conducted raids in al-Zouba' village and Amiriyah Fallujah city in the western province of Anbar, killing 15 ISIL terrorists.
Meanwhile, Iraqi military aircraft pounded ISIL