Iraq
Bomb attacks two Shia Mosques in Iraq, 22 die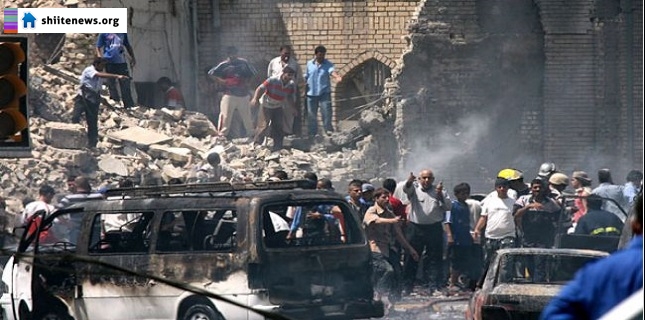 Nearly two dozen people have been killed and scores of others injured in a fresh wave of bomb attacks targeting two Shia mosques in Iraq, security sources say.
A police officer, speaking on condition of anonymity, said a bomber blew up his explosives-laden car just outside the al-Zahra Husseiniya in the town of Balad Ruz, situated 70 kilometers (45 miles) northeast of the capital, Baghdad, as worshipers were leaving following Friday prayers. A second bomber on foot attacked the crowds that had gathered in the aftermath of the first blast.
At least 18 people lost their lives and 41 others sustained injuries in the double bomb attack. The leader of the town's police commandos, Colonel Adnan Mohammed al-Timimi, and two other policemen, were among the victims, according to the official.
Security forces immediately cordoned off the site of the blasts, and ambulances carried the injured to nearby hospitals to receive medical treatment.
In a separate incident, another bomber rammed his explosives-laden car into a crowd of Shia worshipers who were leaving the the Imam Hussein mosque in the town of Kanaan, about 75 kilometers (47 miles) northeast of the capital.
Four people lost their lives and at least 18 others were wounded in the third bombing assault.
Earlier in the day, two civilians were killed and eight others injured when a bomb attack targeted commercial buildings in Hamamiyat neighborhood of the town of Taji, located 30 kilometers (20 miles) north of Baghdad.
ISIL Takfiri terrorist group has claimed responsibility for the attacks.
The UN Assistance Mission for Iraq (UNAMI) says a total of 812 Iraqis were killed and another 1,726 were injured in acts of terrorism, violence and armed conflict last month.
According to the UN mission, the number of civilian fatalities stood at 535. Violence also claimed the lives of 277 members of the Iraqi security forces in April.
A great portion of the fatalities was recorded in Baghdad, where 319 civilians were killed. Terrorist attacks also left another 846 injured.
Northern and western parts of Iraq have been in chaos since ISIL started its campaign of terror in early June 2014. The terrorists are in control of the second-largest city of Mosul and they have swept through parts of the country's heartland.
Since then, Iraq's army has been joined by Kurdish forces, Shia volunteers and Sunni tribesmen in operations to drive the ISIL terrorists out of the areas they have seized.